Search Results for:
rose absolute bulgarian
The use of solvents yields a deeper, richer rose aroma, making the absolute far better for perfumery, and perhaps for emotional uses. However, for skin care, for internal uses, and for physical effects the pure steam-distilled Bulgarian Rose Otto is the wiser choice. Both are well worth experiencing! One luxury-loving client recommends blending the two for the ultimate sensory experience.
Of all of our various Rose Absolutes, this Rosa damascena has the deepest notes, perhaps a blend of sunshine and shadow. I would call it a deep heart note, compared to the high heart notes of the sunnier centifolia extractions.
The absolute is a deep orange in color, and needs diluting to be truly appreciated and is available in a 5% Dilution.
SHELF LIFE: Approximately 3 to 4 years after you open the bottle.  Storing in the dark, refrigerated, and decanting half full bottles into smaller, full bottles will extend shelf life.
Certificate of Analysis:
Batch No. BU-RDABSRI-1-5
Batch No. BU-58613
Batch No. BU-59106
Batch No. BU-59264 (2 ml only)
Batch No. BG-59322 (Current 5 ml and 15 ml batch)
BLENDS WITH: All the different rose oils blend especially well with Frankincense, Jasmine, Lemongrass, Mandarine, Patchouli, Sandalwood, and Vetiver.
The use of solvents yields a deeper, richer rose aroma, making the absolute far better for perfumery, and perhaps for emotional uses. However, for skin care, for internal uses, and for physical effects the pure steam-distilled Bulgarian Rose Otto is the wiser choice. Both are well worth experiencing! One luxury-loving client recommends blending the two for the ultimate sensory experience.
Of all of our various Rose Absolutes, this Rosa damascena has the deepest notes, perhaps a blend of sunshine and shadow. I would call it a deep heart note, compared to the high heart notes of the sunnier centifolia extractions.
The absolute is a deep orange in color, and needs diluting to be truly appreciated. Also available pure and undiluted.
Certificate of Analysis:
Batch No. BU-RDABSRI-1-5
Batch No. BU-58613
BLENDS WITH: All the different rose oils blend especially well with Frankincense, Jasmine, Lemongrass, Mandarine, Patchouli, Sandalwood, and Vetiver.
This rarest of Lotus Blossoms yields an ethereal absolute. When appropriately diluted, it is light, delicate in aroma, not as floral as the more common Pink or White Lotus Blossoms. but its effect on the spirit is amazing.
A "must have" for anyone working with the chakras, doing energy work, or using the oils as a part of their spiritual journey. A former busy bee writes of feeling as though a tube of clear blue light and love was opened, inside her, of knowing that she was directly connected to a spiritual being, "I felt calm, peaceful and centered, but most important, connected and loved. A spiritual experience not to be missed." She describes the scent of the Absolute as that of a gently moving pool, being fed by the purest of waterfalls, filled with the scent of fragile flowers from heaven.
Another speaks of feeling her third eye gently spiraling open. The first client to receive a sample of this exquisite absolute wrote of feeling her crown chakra opening, and filling with beams of clear light. Others say that Blue Lotus is associated with the fifth chakra. The Blue Lotus is said to be the flower of self potential and self-actualization.
I don't feel this oil the way some others have. But when I play with it I envision a clear stream, laughing its way over stones…with flower petals floating on the surface. A peaceful and safe scene, but lighthearted…joyful.
Blue Lotus is not for everyone. It is rare, and costly. We only have a little, and are only offering it in limited sizes, while supplies last. undiluted. Also offered in a 10% dilution.
Perfume writer Victoria, of Bois de Jasmine, writes:
Blue Lotus strikes me as having a very unique quality—translucence paired with tenacity. I find that it starts out with a slightly pungent crisp note (not unlike White Lotus in some ways, which actually reminds me of autumnal leaves), however immediately crispness melds into transparency underscored by a subtle floral note and perhaps a touch of verdant foliage.
Blends well with: Lavender, Sandalwood, Rose, Agarwood, Ylang Ylang Extra, Blood Orange
No known contraindications, but due to aromatic potency use pure absolute sparingly Offered in a 10% dilution
Shelf Life: 3- 4 years
GC/MS Analysis:
Batch No: TH-59290 (Current Batch)
This is perhaps the "rosiest" Rose Geranium from Madagascar we have offered in years. Few of us here are really geranium lovers, but when this scent strip got passed around with the women in our production department, it won a unanimous thumbs up. Michelle can not WAIT to blend the new batch of Passages with this beautiful oil. I don't think I have ever raved about any geranium… consider me raving!
This rose-scented variety of the scented geranium is raised specifically because of the rose-like odor of its leaves. To me, it smells like a blend of a floral and herbal aroma. It's not a substitute for Rose Otto, but it does have a more "rosy" aroma than most other Geraniums.
Both Geranium and Rose Geranium are effective anti-bacterials, earning a place in anti-acne blends and should be considered for other skin infections. They are wonderful oils for combination skin. I would also want to use them in any blend to assist with hormonally caused acne.
It is the oil I use in blends for menopausal difficulties. Geranium is known as "the balancer" of essential oils and Rose Geranium is reputed to assist with hormonal balance. Geranium and Rose Geranium are available in two of our synergies made just for women, Moondays and Passages.
A very different use: The Whole Dog Journal recommends the use of Rose Geranium as a tick repellant for your canine kids. (Please don't use any essential oils on cats!)
Safety: Robert Tisserand advises: low risk of skin sensitization, may interact with diabetic, antianxiety, opioid, analgesic, anticancer, HIV treatment and other medications as well as nicotine.
SHELF LIFE: Approximately 2 to 3 years after you open the bottle. Storing in the dark, refrigerated, and decanting half full bottles into smaller, full bottles will extend shelf life.
Rose Geranium Hydrosol is available on our Aromatherapy Hydrosols page.
Like the other Geranium Essential Oils, it blends well with Clary Sage, Rose, Sandalwood, Frankincense, Lavender, and Chamomile, among others.
Certificate of Analysis:
Batch No. AL-58532
Batch No. MA-30257
Batch No. MA-58616
Batch No. MA-59194 (Current Batch)
Years ago, the first true rose oil that I experienced was an absolute, Rose Maroc, from Leydet. I fell in love, and have loved the various roses ever since. To MY nose and MY subjective experience, the absolutes created from the Rosa centifolia (100 petalled rose) are a bit lighter and sunnier than the deeper Rosa damascena absolutes.
Which to choose? We urge you to sample all three of our absolutes, and compare to our organic Rose Otto. For the physical benefits of true Rose Otto, we prefer the distilled. For emotional and perfumery, it is a matter of personal taste. The Rose Maroc is a higher perfumery note, perhaps a high heart note, while the Bulgarian Damascena is much deeper. Both have extraordinary staying power.
Also available pure and undiluted.
BLENDS WITH: All the different rose oils blend especially well with Frankincense, Jasmine, Lemongrass, Mandarine, Patchouli, Sandalwood, and Vetiver.
The rare and precious white rose from Bulgaria's Valley of the Roses is a direct descendant of the ancient Rosa Gallica, one of the oldest members of the rose family. The Rosa Alba has a much more intense aroma than Rosa Damascena, source of our traditional Rose Otto. A very special luxury indeed, Rosa Alba Oil is available undiluted or in a 5% Dilution in Organic Jojoba Oil for ease of use and affordability.
This total extraction is thick and creamy. We have found that it responds well to gentle warming, and will dilute very easily in slightly warmed Jojoba Oil. We have not had success diluting it in our Fractionated Coconut Oil. For reasons unknown it doesn't dissolve well in the Fractionated Coconut oil, so we recommend using our Jojoba. The producer has mentioned having success in diluting in other fixed oils, but the ones he mentioned are shorter lived and I would not blend a rare and costly aromatic into a shortlived carrier oil.
The CO2 extraction method yields a product closer in aroma to the raw botanical…in this case the true white rose…than does the process of distillation. More of the aromatic chemicals come through the process, and yet there are no solvents used as found in our Rose Absolutes. This wonderful CO2 extract may be the ultimate pure and natural rose oil.
It is more affordable than our classic Rosa Damascena (Rose Otto) Bulgarian. Like any rose oil, it can have a powerful effect at even low dilutions. We recommend using in normal aromatherapy dilution.
Certificate of Analysis:
Batch No. BU-48486
Batch No: BU-RACOSE 1-6
Batch No: BU-58556
Batch No. Bu-58604
Batch No. BU-58985
Batch No. BU-59104 (Current Batch)
All of our rose essential oils, diluted for immediate skin safe use:
2 mls of each for perfumery and pleasure, packaged in an organza bag for gift giving. Save over 20% by ordering the kit, as a wonderful gift for any woman—including yourself!
Because of their already discounted prices, no other Nature's Gift discount may apply to the purchase of our kits and samplers.
First – our thoughts and prayers go out to our friends and clients along the Gulf Coast, in Texas and Louisiana. As I write this newsletter I am following the news coverage on TV and just appalled at the devastation. We hope if you were in the storm's path, the damage done was light and easily repaired. Some of you remember the United Aromatherapy Effort that coordinated aromatic and massage therapy for the first responders after 9/11, and after Katrina, and to troops on the ground in Afghanistan. We are also providing help to Houston. Here is how you can participate.
This is a long newsletter. Pour yourself a cup of tea, sit back relax and enjoy!
This newsletter contains:
Labor Day Sale:
Storm or no storm, Labor Day weekend is approaching – our traditional "end of summer" celebration. During the three day Labor Day weekend, starting Saturday morning, September 2nd, and ending Monday, September 4th, at 11:59 pm central time, we will be having a weekend sale. Literally!
At checkout enter the promotional code "weekend" (without the quotation marks), press apply, and you will see a discount of from 10 to 15% reflected on your screen. Save on retail sized essential oils, blends, skincare products, hydrosols, carriers, and jewelry; perhaps do some early Christmas shopping! The discount's value will change at random throughout the weekend.
Discount does not apply to our normally 'undiscountable' items… no bulk oils, no books or kits…the items clearly marked "discounts may not apply," but that leaves you hundreds of items to save on! If you do not see the discount reflected, PLEASE don't submit your order; we will not be able to apply the discount retroactively. This sale applies *only* to orders placed and paid for via our shopping cart. Only one discount code may be used per order.
New Treasures:
A softer, less in your face Coffee CO2. Beans organically grown in Italy, extracted in Germany.
For those who loved our Frankincense infusions, we have two new treasures to offer you. Frankincense GREEN Sacra infusion, and Frankincense BROWN Sacra infusion. Read the descriptions and choose which is right for you.
Restocks:
As Summer winds down we start looking for the new crops. Lots of back in stocks, or new productions of old favorites. In no particular order, we have decanted new stocks of resinous Cistus, our long delayed fresh distillation of Australian Tea Tree oil. More lemony scented Litsea Cubeba (also called May Chang,) We have restocked some of our organic cold pressed Citrus Oils, Lemon, and Bergamot, as well as more of our Spanish Spike Lavender. From the Comoros comes Vanilla CO2. I am told that there are NO organically grown Vanilla beans currently available from Madagascar. A severe storm wiped out the majority of the organic plants, and the government has been doing so much spraying that, I am told, even the so called organic beans have been tainted due to wind currents carrying the spray to neighboring fields. We have been able to source a conventionally farmed Vanilla CO2 (at a greater cost than our last batch of organic!) and are watching the prices continue to spiral upwards. Our producer is using beans grown in Comoros, because he feels they are cleaner. A precious commodity, use it sparingly and with respect.
From Bulgaria, we welcomed a new shipment of Rose Otto, Bulgarian Rose Absolute, more Linden Blossom CO2, Lavender CO2, and, of course, our classic organic Bulgarian Lavender essential oil.
Freshly distilled hydrosols include Cistus, Holy Basil (Tulsi), our more floral USA organic Lavender hydrosol, USA grown organic Rose Geranium hydrosol, and our wildcrafted organically produced Witch Hazel (this was really delayed this year!) Please note, we are offering our hydrosols in a more cost effective 16 fl oz bulk/refill size if we have ample qualities.
For your complexion, two of our favorite carrier oils, more Moroccan Argan Oil, and White Camellia Oil, the secret of the Geishas.
Press Release:
From American Botanical Council: Nature's Gift Supports ABC Adopt-an-Herb Program through Helichrysum Adoption
Blog Updates:
(I didn't realize how long it's been since I wrote a "real" newsletter until I checked the blog updates! Sorry folks, it has been a busy summer.)
Facebook Flashes:
Our Clients Say:
Itching/Miracle Blend:
Mary Ward wrote: "I wanted to write about Marge's Little Miracle (Marge's Miracle Blend.) It's wonderful stuff! I have been plagued with itching from a shingles attack several years ago. This stuff makes the itching stop right away. Of course, I do have to reapply, but the symptoms go away virtually at once. I can't really describe the scent of this salve. To be honest, I did not expect to like the smell since I thought I was not overly fond of some of its component parts. But the aroma always gets my attention, and I always feel a surge of some emotion that I can't quite identify. This salve is a true pain reliever, and I believe it even has some slight impact on emotional pain as well as relief of physical symptoms. Thanks for making this healing balm. I am sure I will be buying another bottle when this one is gone. " Thinking, Helichrysum is known for healing emotional scars and bruises, as well as the physical ones. We seldom think to use it for that, it is such an amazing physical healer.
Rosa Damascena CO2
Mary later wrote, about the above named Rose,
"Wow! I have a rose in my yard that smells very much like this. It's called Maggie, from the Texas Rose Imporium. Maggie is sweetly scented, heady and very slightly spicy and has deep carmine red flowers. Our other rose, known as Mary Rose, is much more demure and subdued, with a lovely, soft, very subtle, slightly green scent, and she has soft pink flowers. Both are antique roses. Thank you for capturing the more flamboyant of my roses. This CO2 smells a lot like the flower on the bush. I don't think I could wear this without grounding it in something deep, but it sure won't need any fruity top notes to sweeten it up! This is pure rose joy at an unbelievable price." (That last sentence just delighted my heart! I should add it to the product description!)
Shingles Success:
Suzanne Ledoux writes, "In other news, I have a female client who has been dealing with shingles for well over a year. She experiences it as severe muscle tension and pain shooting down her neck, shoulder, and arm. Since her initial outbreak, typically lesions are no longer present. Massage has been the only modality that has helped relieve her tension/pain. She will go through periods of having to take Tylenol daily to make it through her work day. Anti-viral meds as well as the Shingles vaccination were of no help to her. I followed your recommendations on your website for blending Tamanu with a 25% dilution of Ravensara a few weeks ago after this client was struggling with a particularly painful bout. At that point, she was willing to try anything if it would help ease her pain. I am happy to report that your blend worked great! She applied the blend 2 to 3 times per day directly to the trouble areas. Mild pain relief was noted directly after application and within a few days severity of the pain began to generally decrease. Also noted was that a large lesion has begin to push through her skin just below her collar bone. It seems the blend interrupted the development of the lesion and the skin healed. She used completely one 10ml roller bottle in approximately 8 days and requested a refill. She used only 5ml of the second 10ml roller bottle before she felt she no longer needed it. Her only complaint was the thickness of the blend and concerns of getting it on her clothing. Typically a skeptical person of alternative treatments, she was overall impressed with the results. So thank you thank you for your fabulous website and wealth of knowledge you share with your customers!"
Helichrysum/Burns:
Carrie Wenninger writes, "Burned myself good this morning and immediately thought of my bottle of Helichrysum italicum 10% in Jojoba from Nature's Gift. Wanted to share this in hopes that you can add to the Heli Healing Page so it might help someone else!:)
This morning I boiled the kettle almost dry and grabbed it, too fast, off the stove as the smoke alarm was going off. It swung into my inner forearm and left a burn that was hot and red all around with a 4″ long white center strip where the metal really connected. I was pretty sure that was going to blister and fill with fluid immediately, but I slathered on some aloe vera, took a dose of homeopathic cantharis, and then applied my Helichrysum italicum oil 10% in jojoba. It stopped hurting pretty quickly (the pain lessened dramatically within a few minutes and then stopped hurting altogether in a little more than an hour). Now, 7 hours on, the white part of the burn has turned red and practically healed, while the red surrounding area (lesser part of the burn) is completely gone. It's all dry and mending where I expected it was going to get gooshy and either fill with fluid or the skin would just disintegrate and require gauze. Pretty AMAZING and very glad I thought to do that!! Thank you, Marge and Nature's Gift!!
Sincerely,
Carrie Wenninger
Summer/Winter Skincare:
Jenni Valencia wrote, "I love how user friendly this site is! I also love the variety and the detailed descriptions of the products and essential oils! Nature's Gift is by far my favorite essential oil company! I am a huge fan of Cleopatra's Secret Skincare line. It is very nourishing and makes my skin feel and look younger. However, I was wanting a little less moisture during the humid months in Florida. I purchased the Harmony Balancing Travel Set and it is exactly what I needed! My skin feels nourished without the shine. I am using the Harmony Cleanser and Lotion along with Cleopatra' s Secret Toner during the Summer months and will return to Cleopatra' s full line in late Fall. I love that Nature's Gift offers sample and travel sizes so that I don't have to commit to a product that just doesn't work for me. I really can't say enough nice things about Marge and Nature's Gift. I am a customer for life!
(We just love feedback like all this!)
Neroli as Perfume:
Tiffany Di Emidio shared this blend, "I have used Neroli essential oil for years, but suddenly became hooked on it just last month. I made an amazing roller bottle of personal scent (perfume) for myself with it. I used Neroli, added a bit of Rhododendron essential oil, a bit of Frankincense carteri, & only a half of a drop of Davana essential oil, & the blend is unbelievable. Just heavenly.
(To get a half drop of Davana, I added a drop to my roller bottle & used a pipette to add 19 drops jojoba oil. I mixed it, then sucked it all up with the pipette & squeezed 10 drops back in, which contained a half drop of the Davana.)"
Labor Day Quote:
"Choose a job you love and you will never have to work a day in your life."
Sharing Forward: Charity of the Quarter
---

Nature's Gift October Newsletter
New and Back in Stock
TWO new rose absolutes for your sensory enjoyment, a deep and mysterious

Bulgarian Rosa damascena Absolute, available pure and undiluted, or
in a 10% dilution in organic Jojoba, and a bright and sunny
Rose Maroc, Rosa centifolia absolute grown and produced in Morocco.
(Rose Maroc was my first true rose decades ago and I have always loved
it. For the past few years we have had difficulty sourcing it, so
I have been delighted to find and make it available to you.)
These new roses have allowed us to really expand our Bouquet of Roses sampler. While the very limited supplies last, the sampler contains all
our new roses, but also contains the last few remaining bottles of our
Turkish Rose Otto and Absolute, as well as the irreplaceable Rose de
Mai (all oils are 10% dilutions). Supplies of the "full" sampler are very limited, so if you
want them all, order now.
A Nature's Gift EXCLUSIVE… the rare Rosemary ch A-pinene.
I've been seeking this rare treasure for years, ever since Robert
Tisserand mentioned it in his skincare course. Organically grown
and distilled by a true artisan distiller, you may read the story of
this rare treasure's journey, from plants in the ground at Stone Rise
Farm to bottles ready to ship to you in our blog. Supplies are extremely limited;
if you wish to order, now is the time.

Corsican Helichrysum: the two oils we wrote of in last month's
newsletter have arrived and are available online. For the first time in
three years we will be able to offer Corsican Helichrysum in bulk, and in wholesale, not
having to limit this healing oil to 5 mls per client. We are rejoicing!
Lemongrass: We have sold out of our special High Myrcene Lemongrass
oil, and it will be next spring before more is available. We have
replaced it with a sparkling
Haitian Cymbopogen citratus . I'm sure it will meet
your aromatic standards.
New, from our Australian producer,
Fragonia™ Hydrosol.
CO2 extractions of some of the most fragile fixed oils,

Borage Seed and

Evening Primrose, and a wonderfully aromatic Clove Bud CO2 extraction, as well as a powerfully relaxing and anti-spasmodic
Sweet Marjoram CO2 extract…
Another Nature's Gift Exclusive: We have a few remaining copies of Madeleine Kerkhof-Knapp Hayes,
Complementary Nursing in End of Life Care. In my opinion, this is
the most important aromatherapy book published in the last five years,
perhaps the last 10. I took a stack to the AIA conference and
they practically flew off the table. Every serious student of
aromatherapy needs this book. I bought my first copy because of my
interest in hospice work, but the book offers much more than end of life
care. We are accepting preorders for those studying with us in
Atlanta. Any left after we return from Atlanta will be available via our
website. Yes, you can buy it at Amazon occasionally (it is not
always available there), but our price is lower, and we ship from
Tennessee, rather than from the Netherlands.
We have restocked a long list of oils… Ho Wood, Cistus (Rock Rose),
Scotch Pine, a tiny bit of Juniper Berry, Balsam Fir. (The Balsam Fir is so very freshly distilled, a still note is definitely detectable.
It will improve immensely over the course of the next two or three
months.) Finally more Petitgrain Bigarde, more Madagascar Clove
Bud, astringent Cypress, anti-aging Carrot Seed. A new
Rosemary Cineole from Morocco, since our Tunisian supply is not reliable due to political unrest, and a new lot of Litsea cubeba. We are
keeping the FedEx people in business!

SPECIAL SALE ITEMS
For October, save 10% on our retail-sized Australian oils, to celebrate the visit
of my friend and mentor Mark Webb, who will be teaching a course in
Aromatic Medicine in Atlanta, in October, and again next spring. On sale: Aniseed Myrtle, Blue Cypress, Eucalyptus Radiata, Lemon Eucalyptus, Lemon Ironbark Eucalyptus, Peppermint Eucalyptus, Fragonia™, Lemon Myrtle, Lemon Tea Tree, Niaouli, Rosalina, Australian Sandalwood, and Tea Tree.
20% on the 20th. Yes, we will be having a birthday
celebration sale on the 20th again this month, but we have not yet
decided which products will be included. Watch for an emailed
update around the 17th or 18th.

Halloween Sale
On October 30th and 31st. There will be two sales, two
promotional codes. You may only use one code though, so you will
have to choose. (Yes, you may place two orders, but you will be
charged shipping on both orders, so the savings won't be worth paying
double shipping.)
Since Hallowe'en is trick or treat day, we will have a trick or treat
sale:
Enter the Promotional Code TRICK, press apply, and save from 8 to 12%
on all our retail sized products, even the kits which we normally do not
discount. The only exclusions will be bulk products and our rare
and special books. Yes, the % of the discount will vary throughout the
day. No, we can't tell you when it will be higher or lower.
The amount shown on your invoice will be the amout of your discount.
OR… enter the promotional code TREAT, press apply, and save from 10
to 15% on all retail sized essential oils, absolutes, and CO2 extracts.
You choose, trick or treat.

Blog Updates
Thanks to my friend and fellow student Sandy Barrett, we have had a
series of blogs about some of the lesser known Australian oils.
The last weekend in August she wrote of

Kunzea ambigua, my new favorite pain reliever.
In September she has already published articles about

Fragonia™, Christi's favorite, and my favorite

Ironbark Eucalyptus.
I interrupted her series to blog about preparations to go as a vendor to
the
AIA conference in Denver. (First time in 12 or 15 years since
Nature's Gift was represented at a conference, so it was a big deal.)
Sandy's series continued with

Aniseed Myrtle,

Rosalina, our newest "child safe" essential oil,

Rosemary (a preparation for our very special Australian Rosemary,
mentioned above), and the newest Sandalwood in our collection,

West Australian Sandalwood, Santalum spicatum. Next in the series is our
Blue Cypress (also known as Cypress Pine).
I interrupted her series with a collaborative effort, a story of the
very special Rosemary oil introduced above. Chris Burder, the
farmer-distiller at Stone Rise Farms has been gracious enough to share
the journey of this rosemary, from young plants in his farm's field to
the finished product, In The Journey of an Oil. More blog articles on more
Australian Oils are saved and ready to post between now and October 9th,
when we leave for Atlanta for the first part of our studies.

Celebration!
While at the AIA
conference in Denver I had the joy of watching my friend and mentor
Dr. Jane Buckle receive AIA's lifetime achievement award. Never
has an award more well deserved.

Research Report
For those who took part in my research project (no, I haven't compiled the results yet!) and wanted to know "the secret formula." If you were given sample B, the blue mixture, you received the trial blend. Sample A, the brown mixture, was the placebo. Now, the results for the trial blend were all over the map. One participant wrote "I hope this was the placebo because nothing changed." Other participants found amazing pain relief. For those who want to know, and perhaps follow through on their own, the formula was: 2 parts Helichrysum Italicum from Corsica (we used our DON variety), 2 parts German Chamomile steam distilled, and one part Ginger Root, also steam distilled. These were blended, and used at a 5% dilution in a "neutral" carrier oil. (We were not allowed to use a carrier with known benefits, since we were strictly testing the results of the oils.) Given my druthers, I would have used St. John's Wort infused oil as the carrier.

Our Clients Share
Eczema:
Anyone who struggles with eczema knows what a frustration it can be. Just this evening I received the following "success story" from Kim H. in Washington:
Eczema is so tricky and individual! But right now we're having some real movement forward with two of our eczema children using an oil blend right after a bath and before "greasing." My fourteen year old daughter has seen healing in her feet that she hasn't experienced in many years. Here is the blend I'm using: two teaspoons Grapeseed Oil (for the high ceramide content), one full dropper Chia (I measured this out at first, but one dropper is just about right), one full dropper Pomegranate, and three drops Sea Buckthorn. My plan is to eventually have a second oil blend so I can switch between the two, but this is doing so well for them! For my occlusive, I have made a "grease" that is basically the spoon oil recipe I've always made for my wood kitchen countertops, beeswax and instead of the mineral oil for wood I sub a grapeseed/avocado blend, no essential oils anywhere in this because of the open skin involved. I have a smaller tub of the grease with some zinc included for open weeping skin, to both stick to the area and dry it up. Anyway, sorry for the book in your comments section! You'd have to know my fourteen year old, who is a very dry and sarcastic little individual who does not get excited about ANYTHING, to know what a deep thrill it is to see her excited about these oils healing up her chopped-up looking feet with quarter-sized "flakes" and continual itchiness. We're folks with a very tight budget, but hubby has agreed — it's a line in our budget for the foreseeable future. Thanks again, ever so much."
When I asked Kim for permission to share this with you, she replied,
Sure, share away! I do use some of your wonderful oils when I can, as well. My eight year old finds a 1% dilution of your Bulgarian Lavender and Balkan Heli in grapeseed oil to be very soothing when he's itchy, but I only use that on unbroken skin, which sadly isn't present when he's flared. I have been amazed at the healing power of just the carriers! I'm looking forward to playing with others as well over the coming months — I made a long list of various oils and properties to plot out future buys.
And I am saluting Kim for doing the homework, investigating the properties of the carriers and the CO2, as well as the essential oils to see what will best meet her families needs. THANK YOU!
Anxiety:
An earlier message from Kim, a couple of months ago, that I never made time so share:
The sample you sent of your Reunite Synergy was just what was needed. My 15 year old daughter suffers from panic attacks where she feels like she can't breathe. Complicating matters, she also has asthma so it is hard to sort issues. Last week, she had one of these episodes and came to me, saying that she'd taken her rescue inhaler "and still can't breathe." Since she sounded OK to me, I put a drop of diluted Reunite on her palm, then had her rub her palms together, then breathe out of her cupped palms. Within minutes — like 2 — I heard her in the other room giggling and chatting. This has NEVER happened before. We can usually "comfort her down," but that takes a half hour or more, and she's miserable. Our whole family, but particularly this daughter, thank you from the bottom of our hearts!
Some of you know the story behind our Reunité… I developed it for my own crippling anxiety. I could NOT stand up and speak in front of a crowd. Period. My knees shook, I shook all over, the lump in my throat wouldn't let my voice out.. I was a panic stricken mess. In the late 90's I was asked to fly to Michigan and address the Handcrafted Soap Guild Gathering…talking about Essential Oil Safety. I couldn't do this. But I couldn't NOT. I was terrified. When the afternoon came for my talk, I sat in the audience, listening to the speaker before me, (Jeanne Rose, I think!)…and inhaling from an aromatherapy amphora… with my Reunité. By the time they called my name… I took the podium and talked for an hour, as though I had been doing that for YEARS. Cool, calm, collected. That is the power of these oils, and this blend.
Stress / Insomnia:
Adriana Z had written asking which Lavender for helping her relax and sleep. We suggested the Mailette, and told her that at the time, it was what we were using in our Relax Synergy. A week later she wrote,
Hi Marge, I received the products and just wanted to follow up on this communication. I LOVED your recommendations. The Lavender Mailette is something I never smelled before. It mixed really well with my Clary Sage and Ylang and it turned out to be a great combination for when I get home from work.

Now the relaxing Synergy… well… that was something else. I had one of those days on Monday and put few drops in my diffuser before going to bed. I was a little jittery in the evening trying to process the events of the day and knew it was going to be hard falling asleep. I placed the diffuser on my night stand and just laid there quiet. I didn't even see my husband coming to bed and he told me he went up about 30 minutes after. It's magical, thank you so much for making such a great product.

Blessings,
Adriana
I LOVE success stories!

Quote of the Month
"Autumn is a second spring when every leaf is a flower…."
—Albert Camus
And, of course, there is my very favorite line…"October's bright blue
weather."
Have a glorious October everyone!
To sign up for your own copy of the newsletter to be emailed to you, please click here.
[A revisit to an archived blog from March 14. 2012]
Health Alert: Avoiding Synthetic Fragrances
This was the headline in a Consumer Reports newsletter in my mailbox years ago.  Now, I have been avoiding synthetic fragrances for decades.  But… for those who don't know: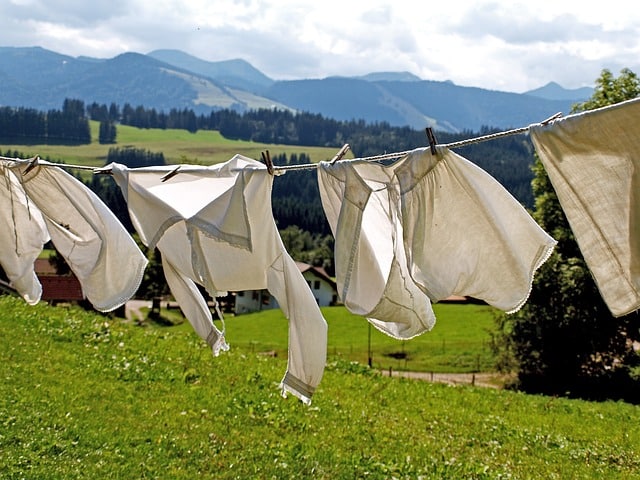 Consumer Reports issued a report criticizing the use of synthetic fragrances in the dryer. "Consumer Reports environmental experts say you should get nervous about smells that won't quit, especially when you don't know what you're smelling. The product's label just says "perfume dispersant, perfume and dyes." The manufacturer, Procter & Gamble, told Consumer Reports that perfume ingredients are "proprietary information," but it says that the chemicals they use are at safe levels." I am sure we all find that reassuring.
The good news is that it is possible to add fragrance to your laundry, and know exactly what you are using!
This is what I do.  (Years ago a serious case of contact dermatitis landed me in the ER.  I was taught there to *never* use a "dryer sheet" to soften cloths,   to buy and use only the "FREE" detergents – unscented with no color –  and to put some white vinegar in the fabric softener cup of my Washing Machine.   Two washing machines later, I'm still following that advice.)
If I'm washing clothes that may have a bit of musty mold scent…  a generous splash of Palma Rosa or Eucalyptus citrodora (Lemon Eucalyptus) goes into the wash water with the detergent.  Anti fungal oils will freshen towels that perhaps sat, damp, too long.    If clothes are grease stained,  some Orange essential oil with the detergent will remove any greasy aroma. (Be aware though, that Orange Oil CAN discolor white clothes.)  LilBit slept too long on my quilt?  Fresh Aire synergy does a GREAT job at removing the scent of wet dog.
Other things that I do. (For various reasons I can't dry my clothes on a clothes line. Cold water washing and low heat drying is as "green" as I can be.) There is NOTHING like the smell of sheets and pillowcases, blown dry on a line in the sun and freshly made up on your bed.
Lacking that option… I have two or three old washcloths (rags!) that sit on the dryer. When a load of clothes I want to subtly scent goes in the dryer, a few drops of essential oil or blend go on a rag, and it gets tossed in with the wet clothes. Normally I am aiming at a VERY faint aroma, and use only a few drops of EO. More essential oil, obviously, makes the scent of the clean and dried clothes a bit stronger.
Fresh Aire, again, for towels, and a lot of my clothes.  Linens?  Lavender, or, if I am feeling decadent and self indulgent..a drop of Rose.   A man's laundry could be scented with Cedarwood or Sandalwood.