Our coolest essential oils and hydrosols–we are putting retail sizes of all of our mint oils and hydrosols on special sale at 10% off. The price is already discounted in the shopping cart, so you may still use any other discount codes.
Vacation Savers
Even though school is starting here in just two more weeks, many are still planning their vacations. Save 10% on all the products that can prevent or ease problems that can spoil your vacation: See details of both sales on the Nature's Gift front page. See also our list of brand new or back in stock products.
Going, Going, Gone
Several products are running low and will not immediately be replaced. Shea Nut Oil, Monoi de Tahiti, Poplar Balsam 10% dilution (the undiluted is gone), Our Elemental Blend Spirit, the Air blend. We have sold out of the anointing oil of Rick's Valour Blend, but have a single undiluted synergy left (a blend for spiritual courage, created as a result of the events of September 11).
Shipping Savings
You now have a lower cost option for shipping lightweight orders. First Class shipping is available for orders whose total weight, including packaging, is under 1 pound. Our shopping cart will do the work for you and offer first class shipping if it is available for your order. Also, we have lowered the minimum order for our SHIPFREE discount. From now on, orders over 5.00 are eligible for the shipfree discount code. Remember, you can only use one discount code per order. Free shipping is never automatic; you must use the SHIPFREE discount code.
Blog: What I Learned
Buddha Wood CO2 –all sorts of wonderful other uses.
Our Clients Say
Cleopatr's Secret Serum
Teresa Wilder wrote, "I left a review but had to say again how amazing this serum is. My face hasn't felt or looked this good in months. It isn't itching from being dry. Dry skin has NEVER been a problem for me and it took me several weeks to figure it out and find the right products. Your rose Hydrosol is a staple for my face but once I added the serum I was wowed!"
Heavy Leg Syndrome
Victorina, from Chicago has been having really good results using the hydrosols (especially Roman Chamomile Hydrosol) to help her cope with Heavy Legs. She writes, "I find these hydrosols relieve the tension that can build up all over the body while resisting the fatigue that comes from the condition itself and because I like to stay active and selectively keep moving. I was unbelievably tired doing this at first but I'm gaining quite well as I persevere. It's important to do what one can to strengthen or support the valves while not over stimulating the circulation too much for them to handle. Sort of like filling a balloon is the way it was put to me. An interesting energy balance challenge, don't you think?" Yes, I do think, and I'm glad the hydrosol spritzes are helping!
Serious Bruising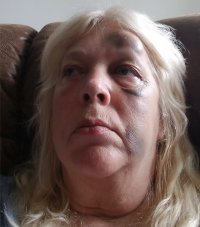 Susan K wrote the following (and gave us permission to share both her words and the picture): "I hit my head rather hard nearly 3 weeks ago and my face has been purple. I can't find my heli, so yesterday when I received my Sunburn Soother I applied it to the bruises and reapplied before bed. The lowest bruise lightened more than 50%!! AMAZING!
I know from past experience that the Sunburn Soother works just excellently on bug bites, too!
I just had to let you know, in case you didn't know already.
THANK YOU SOOOO MUCH!!!"
Helichrysum is a major component in our Sunburn Soother, so that makes sense. I'm so glad it helped and that Susan is well on her way to recovery!
Recycling
Did you know that our bubble mailers (If we use them) *and* the bubble wrap your bottles are wrapped in may be recycled where you recycle plastic grocery bags? (Not with normal plastics, although our PET bottles may go with other plastic recyclables.) We really do try to be good stewards. The pretty tissue we wrap with is recycled. The paper we print orders on is recyled. When available we use packing peanuts that may be composted, made of cellulose. When, for some reason those are unavailable, the "green" peanuts are made of recycled styrofoam. We have considered doing away with the peanuts but without them the risk of breakage is too high. We try to strike a balance between ecological sensitivity and getting your products to you safely.
Blends from August '09 Newsletter
Patience Blend
"Dear Marge, That Mentha citrata, Linden Blossom, and Vetiver blend for patience is really nice. It has a gentle summer breeze scent that I find very pleasant."
Which, of course, meant that I immediately had to go get scent strips of Mentha citrata (Bergamot Mint,) Linden, and Vetiver and try them together. Of course I was working with relatively equal amounts, and the Linden and Vetiver somehow were a bit too deep for me. I got nothing of a "gentle summer breeze" from it. (Of course the original blend probably had a LOT more Bergamot Mint than the other two oils… but I don't know that.)
At any rate, I wasn't pleased. But then I touched just the very TIP of a scent strip to our new organic Spearmint. Perhaps 1/10th as much of the spearmint as of the other oils. And, all of a sudden, that little bundle of scent strips reminds me of a light summer breeze. Amazing! (Now, why would those three oils contribute to "Patience"??? I have no idea. But it's amazing what I find when I go through old email archives!
Another Summer Blend
Quoted from a years-old midsummer newsletter: Misty was playing this morning and came up with a delightful light summery perfume or diffuser blend…one drop each of Spearmint, Ylangylang, and Tuberose 10%…
(or 10 drops each of the Ylangylang and Spearmint with one drop of undiluted Tuberose) She's thinking of making a room spray, I have it in the aromalamp on the shelf over the desk. Yummy! (She used Ylangylang extra, but I think whichever you have on hand would work well.)
From that Same Newsletter
Summer Aromatic Quote
"Here's flowers for you;
Hot lavender, mints, savoury, marjoram;
The marigold, that goes to bed wi' the sun
And with him rises weeping: these are flowers
Of middle summer, and I think they are given
To men of middle age."
—A Winter's Tale—Shakespeare
Have a wonderful rest of the summer everyone!
2 responses to "August Specials"