Search Results for:
white ginger lily
We are so tired of winter. We are welcoming springtime with all the green leafy scents that say "SPRING" to us.. not the lush florals… but the first hints of green after Winter's barrenness.
Save 10% on retail sizes of the following Harbingers of Spring
Rhododendron, Violet Leaf, vivid Ironbark Eucalyptus, Lemon tea tree, and Lemon eucalyptus, Coriander (the sunshine spice!), Bergamot Mint, Balm Mint Bush, Beeswax Absolute, Galbanum, the "rites of spring" oil, Rosalina, light and delicate.
And for Spring Cleaning: Tea tree, Manuka, Geranium, Palma Rosa (did you know those last two were powerful germfighters? We tend to overlook them.)
Skincare Sale
For winter weary skin, we are putting ALL of our skincare products on sale. 10% off retail.
Make your own moisturizers? Save 10% on all of our individual carrier oils, infused oils, and butters.
(When the seasons change from Winter's dry cold to Summer's hot mugginess I like to switch to lighter oils for moisturizing and cleansing. Perhaps you do to? This is your time to stock up.)
Book Sale
My mentor Madeleine Kerkhof is celebrating the 20th anniversary of her company, and her 10th anniversary of providing AromaCare products this year. In her honor, we are discounting her landmark book, Complementary Nursing in End of Life Care. Save 10% from March 1 – 20, while current supplies last. (Yes, the shipfree discount code will apply!)
New Fixed/Carrier Oils
New Essential Oils
Eastern Hemlock, from Canada, and Ajowan CO2 from Germany
Back in Stock
We've restocked goodies from our supplier in India: more White Ginger Lily, more Blue Lotus Absolute, and finally a good Holy Basil, Apricot Oil infused with Golden Champa (lovely floral body oil!) now available in a 16 oz bulk refill. And, from a USA distiller, specially distilled for Nature's Gift, a new batch of Patchouli Hydrosol.
Blog Updates
Facebook Updates
These are just a handful of the tidbits that are shared with our Facebook followers every month. And, of course, they are the first to see announcements of new and back in stock oils. Remember last year, for awhile, we did a "Mondays With Marge" series, where folks posted questions and we would answer them on Monday evening? We are planning a weekly or biweekly Facebook live where folks can ask questions, and I'll try to answer them. Stay tuned, and follow us on Facebook.
Our Clients Say
Black Sacra
Hello Marge, I needed to tell you that I received my new Black Sacra Frankincense today and OH MY….time stopped still and when I came back, I found myself not just holding the bottle but cradling it!! Such a precious oil. It deserves to be held so lovingly.
Thank you for making it available to us again. Next purchase…the new Black Sacra hydrosol I see you have now. I will be ready for it!
With much gratitude, Chrystyna
German Angelica Root
Sophia Rose writes, The Angelica Oil is divine. I have only just smelled it so I can give you my first impression. My feeling with this Angelica Root oil is that I experience it as one that connects me deep and securely into the depth of the earth but also up to the Angelic Realm. My experience of Angelica up until this one is it connecting me into the earth but this is the first oil that I feel also connects me to the Angelic Realm. This is how I just experienced this oil. I know it is said to be the oil that connects to the Angels and this oil has done that for me, I experienced this very clearly energetically. So I am over the moon delighted to have this very special treasure.
She went on to write about other oils in our Private Reserve collection, and, I am completely and totally intoxicated and in love with the Bitter Orange Oil. Wowzer, how gorgeous is this oil!!!!!!!!!! I love all the oils, the Pine/Pine Cone is beautiful, the Black Spruce is a delight, all the oils are gorgeous.
Happy Dreams
We are seeing positive reviews on Facebook…people whose little ones (toddlers, typically) unable to sleep through the night. Diffuse Happy Dreams for a few minutes before bedtime and voila, a good night's sleep for Mommy and child. I love that this is helping people!
Quote of the Month
Love is the only flower that grows and blossoms without the aid of the seasons.
Kahil Gibran
May you have a refreshing and renewing Spring Equinox and may your March become a Lamb, not a Lion!
April Showers
This newsletter contains:
April Savings:
To counteract the April Showers, let's have some citrus sunshine. To
bring sunlight on rainy days, we are offering retail sizes of all of our Citrus Oils at 10% savings during April.
Also, Free Shipping Fourth Friday, in April and most subsequent months, on the Fourth Friday of
the month (04/22) we will be offering free domestic shipping for orders over
5, with the discount code "Friday-Four."
New and Back in Stock Products:
We were so busy importing and adding new products, or sourcing out of stock
products that we never got to put them online.
Fixed/Carrier Oils:
Our South African supplier offered us a small amount of organically produced cold-pressed
Rose Hip Seed Oil. With the worldwide
shortage, we took all that we were offered. More
Vanilla Infused Jojoba,
again, organic from South Africa, and after too long a wait,
Marula Oil!
We have finally succeeded in sourcing a match to the first batch of Marula we
ever experienced. A bit thick, and heavy initially, but far and away the fastest
absorbing fixed oil any of us have experienced. We are delighted to make it
available again.
Refillable Inhalers are back in stock. We also restocked
Fragonia, Kunzea, Tea Tree, the Australian oils that were starting to run low.
Coming Soon: An Italian Roman Chamomile. We sampled it, and fell
in love. With the global shortage of fine Roman Chamomile we snatched what was
available.

NEW Oils:
Just thinking that this list of new products reads like either a geography
lesson, or like the United Nations.

Blog Updates:
In March, Sandy added to her Aussie Oils series with an article about our
delightful new Nerolina.
The first article in a proposed series about new ingredients. In this case,

Optiphen, an effective and safe general purpose preservative.
Sandy and I headed back to Atlanta for part two of Mark Webb's Aromatic
Medicine course.

She blogged her reflections.
Mark taught us some Australian substitutes for costly European Melissa oil.
Read
about Lemon Tea Tree and Ironbark Eucalyptus as Melissa substitutes here.

Educational Opportunities:
If you are intrigued and want to learn more about Aromatic Medicine, but not
quite ready to commit to an 8 day intensive course,
Mark will be doing
a Post Conference one day workshop after the NAHA conference in October.
Speaking of NAHA, my friend
Madeleine Kerkhof,
author of my

favorite new book, will also be presenting. I hope to be able to help both
my favorite authors at their tables, as they sell and sign their books, and to
offer kits of the oils they will be covering.
FREE mini-course with Robert Tisserand:
How
Essential Oils Work in the Body. (A lot of our staff, the untrained folks, are taking this.)

Snippets:
Tea Tree: We all know the amazing power
of Tea Tree Oil. But not all of us like its smell. To me, it's medicinal
and I avoid it whenever possible. At Mark's Aromatic Medicine course I
learned that a blend of equal parts Tea Tree Oil and Rosalina is as effective as
the tea tree alone, but smells absolutely delightful! Gentle, floral,
delightful.
Siberian Fir: We didn't need another conifer. We have plenty. But Mark taught us that this unusual fir is
extremely high in Esters, more than any other conifer oil. And Esters are
the component in oils that help us relax. They are the secret of Roman
Chamomile's sedating power. Robert Tisserand recommends using conifer oils
for respiratory difficulties in children too young to be exposed to the
eucalyptus and other high cineole oils. And I thought that a conifer that
would both help a child sleep and help with a stuffy nose might be just what
every mother needs in her toolkit.
Lemon Myrtle: Marnie Sloan Scassa
commented on Facebook: "I'm not much for lemony scents myself but I have been
enjoying the lemon myrtle. Mixed with lime, my kids think it smells like fruit
loops." When I asked her if I could quote she said yes, of course, and added, "It's
our favorite room spray for the kids rooms. Momma gets all the benefits of
y'all's delightful Lemon Myrtle and the kids get the fun. GOOD way to kill germs and lift spirits at the same time!
Ashley Cates recently did some "kitchen chemistry" analysis of several different "germ killing" or "protective" blends. Our GermBeater Spice was among them, and tested out as the most effective of the tested specimens. This is NOT Consumer Reports, but I'm glad we came out on top, rather than on the bottom!
Oldy but a goody, reprint from Nurseweek Magazine about the
use of aromatherapy in a hospital in Dallas Ft. Worth.
A comment on an order (I got permission to quote) "I have been super sick and
finally made the connection… I got sick when I ran out of flu foil!!"
(She was restocking.)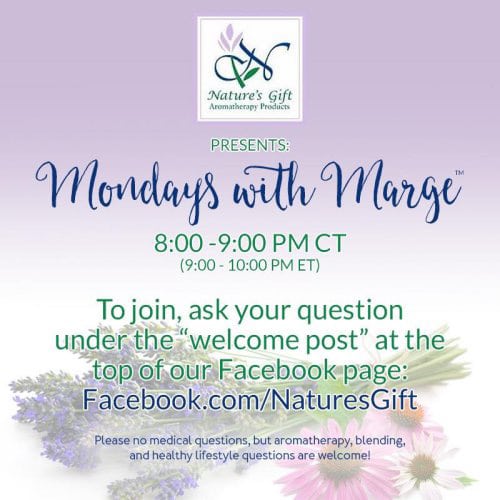 Question and Answer:
For our Facebook friends instead of answering questions
throughout the day in numerous groups, on Monday nights, at 8:00 pm central
time, starting on Monday April 4th, Marge and possibly Christi will be available
to answer your questions.
Enough, I'm tired of typing, and you must be tired of reading.
Hope your springtime is filled with joy and happy changes and new beginnings!
To sign up for your own copy of the newsletter to be emailed to you, please click here.
The Dog Days of August
Like most of the southern, central and eastern United States, we have experienced the dreaded August "Dog Days" throughout June and July, and are dreading what Mother Nature might have in store for us during the month of August. Our lawns and gardens are dry and brown, some of the trees are showing Autumn colors in midsummer.
We are fortunate to work in air-conditioned comfort…after all, the oils need "cool room temperature" so we wear sweaters. Our hearts go out to those who have to work outside, or don't live with air-conditioning. Stay safe everyone.
This newsletter contains:
Clearance Sale – 2010 St. John's Wort Oil
A Helichrysum Sale!
Back in Stock products
A Tropical Flowers Sale (because you asked for it!)
A Back to School Sale
RESIZING
Blog Update
Our Clients Say
Recipes/Formulas
Aromatic Quote
Enjoy!
St. John's Wort Sale:
Save on the last of our 2010 infused oil. Save 25% while supplies last.
Helichrysum Special Sale:
We have put our "copper free" Helichrysum Essential Oil from Corsica on special sale – 40% off our regular price. This "batch" of Helichrysum is higher in Neryl Acetate but lower in Diones than our "Traditional" Helichrysum. We have never offered any Corsical Heli at a price this low.
Back in Stock:
BACK IN STOCK: German Chamomile Hydrosol – just in time to sooth summer's irritated skin. Tranquility Diffuser – our silent Nebulizing Diffuser. Ideal for your bedroom. Lavandin Super Essential Oil and ORGANIC Cajeput Essential Oil.
TROPICAL FLOWERS:
If we are going to have tropical temperatures, let us have tropical pefumes to surround us. Enjoy our favorite exotic tropical blossoms in skinsafe 10% dilutions, perfume blends, or infusions. Jasmine, Coffee Blossom, Tuberose, White Ginger Lily, Vanilla, and our White Blossoms perfume, all at 10% savings.
BACK TO SCHOOL:
In New England, where I grew up, school started on the Thursday after Labor Day, and didn't end until June 21st, the first day of summer. Starting school in August just seems wrong to me, but here in middle Tennessee some systems are going back to school even as I type. My grand-daughter's first day at Kindergarden is August 11th. (At least her school is air conditioned; some of them aren't.) At any rate, to help students of all ages prepare for school we've put our traditional study synergies on sale. Focus (our study blend, for lamp or diffuser) and Fog Cutter—energizing to help them get up and catch that early school bus. KleenHandz, our gentle, aloe based Hand cleanser, loaded with our favorite anti-bacterial and anti-viral essential oils. Save 10% of all of them on our New and Special page. Also save on our deluxe pocket inhaler, and our MIO desk top diffuser, perfect for a small area.
RESIZING:
For years we've tried to offer Hydrosol Samplers, one ounce sizes of several different hydrosols, either our choice, or your choice. That has, over the years, caused some problems, when people would request samples of hydrosols that were running low, and all poured in 4 ounce bottles, or would request out of stock samples, and we would have to hold their order waiting for substitutions. We've decided to discontinue the samplers, as such, but all of our hydrosols are now available in a one fluid ounce "Trial Size" as well as our traditional four fluid ounce Cobalt PET atomizer. I hope the flexibility of selecting just one trial size if that's what you want will work well for you all.
BLOG UPDATE:
In the month of July Christi blogged about a multi-purpose shower gel formula she created and I shared an article from The Whole Dog Journal which suggested Lavender oil in creating a less stressful environment for aggressive dogs.
I have been working on a blog article to summarize all the reasons we oppose the Safe Cosmetics Act of 2011. Time has not allowed my to write it yet, but on Facebook we've shared the writing of many respected leaders in our industry who feel strongly that rather than giving us safer cosmetics, this act, as written, will drive those manufacturing natural personal care products, and those supplying pure healing ingredients out of business. I know that, as a supplier, there is no way that Nature's Gift can meet some of the proposed regulations. The paperwork and testing burden will be beyond our resources. Among those who oppose the bill as written are: Robert Tisserand, renowned Essential Oil safety expert, Cindy Jones, PhD, Microbiologist and Chemist. Kayla Fioravanti, of Essential Wholesale has written a series of blog articles analyzing the proposed act, and the unforeseen effects of many of its proposals.
These are just a handful. When I come up for air, I'll be writing a blog article about it. If you agree with the reasoning in the articles above, there is action you can take. Let your elected representatives know that you oppose H. R. 2359, log onto the Petition Site and add your name to those of us who have already signed. We would love to be able to continue doing what we do. This law will force us out of business.
Just today I published an article congratulating Christi on successfully completing her Aromatherapy course with the Institute of Integrative Aromatherapy.
OUR CLIENTS SAY:
Mouth Sores:
A family friend is going through chemotherapy following cancer surgery, and having a hard time with it all, so we've gifted her with products that we thought might ease some of the side effects. She had mentioned having terrible mouth sores. Now, by now everyone knows I ALWAYS stress that these oils need to be diluted, and should never be used neat. There is one exception to that rule that I follow myself. If I have a sore inside my mouth — a canker sore or irritated gums, etc, I will put a tiny drop of Myrrh essential oil on my finger tip and touch it to the sore. When she mentioned the mouth sores, I gave her a tiny bottle of Myrrh to try. Her comments? (Posted on her Facebook page, shared with permission.)
Nature's Gift Aromatherapy has saved the day again. My horribly painful mouth sores were getting unbearable and I used their Myrrh as suggested. Immediate relief. Months of nasty mouthwash and every other thing you can imagine. You should really check out the site. Mother Nature wins again!!!
We have had some occasions recently when we were privileged to make a difference with some individuals. What a gift that is, and a powerful reminder of why we are really here! Thanks for letting us share that, Christy!

Helichrysum/Bruises:
Melanie Warren, from the UK recently wrote and shared the following:
Firstly I want to thank you for the info on your site about Helichrysum. Because of reading that – I had the most amazing experience. My husband had his finger trapped in the car door. A few hours later when I saw him it was swollen, throbbing badly and starting a huge bruise including under the nail. I didn't have a clue about the % blend to use so 2ml rosehip with 2 drops heli and 1 drop chamomile and by next morning it had stopped hurting completely, the bruise was reducing, and the next day the nail bruise is almost gone. Amazing. Keith is amazed too! He doesn't see how a few drops of oil can take away the pain and bruising so efficiently and neither do I but it worked.
When I wrote asking for permission to quote her she replied:
Yes of course you can use it if it helps someone else. It was your site that helped me!!…Following up Keiths finger – it was Wednesday 7pm he trapped it and today (sunday 1pm) there is absolutely no mark at all now and hasn't been any pain since just after the first application of the oil. He has used it a few times each day still but may as well stop now!
I love it when the information we share helps someone!!!

More Heli:
Annette Kohn-Lau sent the following:
Hi! Wanted to share a great story on Helichrysum 10% dilution! I had some spider veins removed from my face recently. The doctor told me I would be bruised and swollen for two to six weeks. She gave me an ice pack to use right after the procedure, but when I came home, I put on some of your Helichrysum 10% dilution. I reapplied it that night and again the following night. (I have to admit I really don't like the smell!). I never had any bruising at all….just a tiny bit of swelling that was barely noticeable. It has been several days now, and still not a hint of discoloration.I had this same procedure done last year and was really bruised for at least a week. Should have thought to use the Helichrysum then! Thanks so much for being one of my favorite companies!! Annette Kohn-Lau

Squalane:
Linda Jane Robinson had been writing about some other issues, and mentioned in passing (with permission to quote):
I also wanted the let you know, that the Olive Squalane oil that I have been using for my eczema, I am using for my dogs. Since we have moved to India, the dogs' noses have dried out, I have been using this oil twice a day on them and their noses have improved dramatically. The really good thing is that they don't lick it off when I have applied it
I've had our dogs' noses get really dry at times, when they've been otherwise healthy. This is a good tip to know.

Back to School Butterflys:
A reminder from past years – Debbie G's daughter suffered from school anxiety, and butterflies in her tummy every morning when school started. Debbie carried a small atomizer of our Neroli Hydrosol in her purse and every morning in the car misted her daughter with "butterfly spray." Her daughter danced off to class, happy and reassured. Neroli can work wonders for anxiety. Our supply is extremely limited.
Recipes/Formulas:
Belly Balm:
We used to make a belly balm. I never claimed that it would prevent stretch marks — my understanding is that the tendency toward stretch marks is hereditary, and if you are fated to get them, you will. But the balm kept growing bellies soft, moisturized and not itchy. When Candice, my daughter-in-law was pregnant with Chelsea, her first, I gave her a jar, and never thought anything of it. Recently she commented that on her belly, where she used the balm, she had NO stretchmarks. On her breasts, where she didn't… she has lots of them. WHOA! That amazed me. We still do not offer it; we sometimes had problems getting the texture exactly right. So we thought we would share the formula. If nothing else it SMELLS yummy! (I asked her permission to quote her.)
Scaled down formula. Please note, these measurements are by weight. Use your postage scale.
250 grams Virgin Coconut Cream Oil
75 grams Cocoa Butter (melted)
Melt the Cocoa Butter, and stir into the Virgin Coconut. The heat of the melted cocoa butter should be enough to melt the coconut. If not, warm gently just until liquified.
Blend:
7.5 grams Rose Hip Seed Oil
21.5 grams Argan Oil
Stir in to the melted solid oils.
Weigh and sift together 14 grams of corn starch (yes, from your kitchen pantry).
Sift over the balm and beat in until smooth. (The corn starch gives a lovely powdery finish and makes the balm feel "non greasy.")
These quantities will yield a full to the brim Bail Jar and perhaps a tiny bit left over. (Please note — we stopped making/offering this because the oil blend has a tendency to separate out from the rest of the balm — not what we want in a commercial product. We may change our mind and try it again based on Candice's comments.)

Fragrance Blends:
Eve Roxby, of Winslow AZ, enjoys creating new and unusual scent blends, and sometimes shares idea with me. Two that she recently mentioned:
1. "The Davana is wonderful with some Vanilla added. It warms up to an Apple Toddy smell!" This is one I haven't tried, but it sounds like it would be wonderful for Autumn!
2. "These oils are so much to experiment with. You know in my previous order, I got the Petitgrain and I wanted it to create a fragrance that smells like the soil, rocks or cement after a short rain. You know the smell when the earth gets wet and then the sun comes out and there is a humid atmosphere around? This is what I was after and I have created something very close by mixing 5 drops of Himalayan Cedar wood, 3 drops Petitgrain, 1 drop clementine rind, and 1 drop cardamom. I named this "Pangano Rain" after a lake in the Himalayas (Pangong Tso)."
(And no, I don't have proportions or dilutions. This is about PLAYING, and ideas that might spark some creativity for you.)
COOKIES!
From a summer newsletter a decade ago, Deanna Maldonado shared the following:
Dear Marge, I purchased some of your wonderful lemon rind oil a while back and used it in the following recipe for lemon tea cookies adapted from the book Favorite Recipes with Herbs by Dawn J. Ranck and Phyllis Pellman Good. I just thought I would pass it along.
Lemon Tea Cookies
1/2 cup softened butter
8 oz softened cream cheese
2 eggs
1 cup raw sugar (may substitute granulated)
1/2 cup honey
2 tsp lemon zest
15 drops lemon oil
4 drops mandarine oil
2 1/2 cups wheat pastry flour (may substitute all purpose, but I would use less)
1 tsp. baking powder
1/2 tsp. salt
Juice of 3 lemons
1-2 cups confectioner's sugar
candied lavender flowers (optional)
Cream together butter, eggs, cream cheese, sugar and honey. Add 2 Tbsp. lemon juice, lemon zest, lemon oil and mandarine oil. Mix well. Sift together flour, baking powder and salt. Add gradually to egg mixture. Mix until smooth. Refrigerate until thoroughly chilled. Roll into balls about one inch in diameter. Place on greased cookie sheet. Bake at 350 for 10-15 minutes or until edges turn golden brown. Frost with lemon glaze. Garnish with candied lavender flowers.*
Lemon Glaze
Mix remaining lemon juice with 1-2 cups confectioner's sugar until paste forms. Drizzle over warm cookies.
* To make candied lavender flowers, paint blossoms with a mixture of lemon juice and confectioner's sugar mixed with one or two drops lavender oil. Lay flat until dry or dry for 30 seconds on high in the microwave.
Yum….(I think ANY citrus oil would be lovely in these. Deanna used our lemon oil in place of the grated lemon zest.)
AROMATIC QUOTE
Aromatic quote for August…well…not, perhaps, aromatic…but it feels just right to me:
When we are mindful of every nuance of our natural world, we finally
get the picture: that we are only given one dazzling moment of life
here on Earth, and we must stand before that reality both humbled and
elevated, subject to every law of our universe and grateful for our
brief but intrinsic participation with it.
—Elizabeth Gilbert (From her biography of naturalist Eustace Conway.)
More aromatic:
"The air was fragrant with a thousand trodden aromatic herbs, with fields of lavender, and
with the brightest roses blushing in tufts all over the meadows…."

—William Cullen Bryant quotes (American Writer, 1794-1878)
Stay safe everyone!
To sign up for your own copy of the newsletter to be emailed to you, please click here.
Nature's Gift May Flowers Newsletter
Mother's Day Specials from Nature's Gift
Our New & Special Sales page is now online and features our favorite gifts for Mom (or Grandma) as well as our annual "May Flowers" Sale.
Rose Bliss Bath and Shower Gel, our complete line of Cleopatra's Secret products, our "For women only" synergies, and our favorite floral (and other) absolutes in skinsafe ready to wear 10% dilutions. May Flowers after all the rain many of us have been experiencing. We've even put our frosted Roller Ball bottles on sale if you want to package some single note (or blended) perfumes.
Hints, Tips and Formulas — Scent blends
Bliss Drops
Angela Eaton recently emailed the following — with permission to share:
I just made up a great recipe last night and I thought I'd share it with you. I call it "Bliss Drops."
Equal parts
white ginger lily
vanilla
sandalwood
In a skin-safe dilution. I have those three in 10%, so I'm just using them perfume strength.
Perfect timing since ALL components are included in this sale. I've tried this blend; the name is appropriate.
Baby Powder
NOT for use on your baby, but a blend of equal parts Rose Absolute and Vanilla is remarkably close to the scent of commercial baby powder — if you want to duplicate that scent. Neither oil is safe for infants, so please don't think about scenting baby products this way.
Oriental Rose Blend
One part Sweet Patchouli 10%
Two parts Rose Absolute 10%
Aphrodite Blend
Equal parts Patchouli, Sandalwood, and Jasmine
OR… my personal preference…equal parts Patchouli, Sandalwood and Rose (yummm!)
Aromatic Quote
Our thoughts and prayers are with all those suffering from the bizarre weather sweeping this country this week. With this in mind, I found a quote from a years old newsletter:
Aromatic quote of the month…that proved true during a difficult time in my life:
"Food nourishes the body, but flowers heal the soul."
—Old Proverb
To sign up for your own copy of the newsletter to be emailed to you, please click here.
The Beginnings of Summer
This newsletter contains:

May Flower Sale Continues:
We're continuing to offer some of our favorite floral oils at 10% savings. Save on exotic, fruity Osmanthus, Osmanthus 10% Dilution ; delicate Neroli and Neroli 10% ; Orange Blossom Absolute and Orange Blossom Absolute, 10% Dilution ; all three Jasmines (both full strength and in 10% dilution), lush and exotic Tuberose and Tuberose 10% ; the Organic Rose Otto and Organic Rose Otto 10% mentioned below; and our Russian Rose Absolute and Russian Rose Absolute, 10% (perhaps the best bargain of all the florals). Also included, while supplies last, our White Ginger Lily and White Ginger Lily, 10% from India. Again, while supplies last, Ylangylang Complete and Ylangylang Extra. We are restocking, but there have been delays, so if we run out, we apologize. We had hoped to have a new supply of pure Golden Champa in time for this sale, but our producer is being dilatory in shipping what we ordered. We do have our Golden Champa 10% available. As usual, bulk sizes, kits, and samplers aren't included in this sale.

NEW and Back in Stock:
A new ITALIAN Helichrysum (yes, Helichrysum italicuum, organically produced on the island of Sardinia, off the coast of Italy (just a stones throw across the Mediterranean from Corsica). I was sourcing more of our healing Balkan Helichrysum and found this wonderful specimen, even higher in neryl acetate than its Macedonian predecessor, but, lower in the italidiones than our unique Corsican Oil , which we will reserve for surgical and burn scars. HOWEVER, this new oil from a new (to us!) producer is wonderfully effective for nerve and joint pain, bumps and bruises, all the healing uses of a fine Helichrysum italicuum. And, since it *does* contain italidiones (over 4%) I find myself asking what percentage of italidiones do we NEED for scar healing? I don't think anyone knows. I have had some chemists tell me they have never seen an oil with over 6% italidiones. I don't have the answer. Will this Italian specimen be as effective for scar healing as our Corsican oil? Too soon to tell. We hope to get feedback from those who try it. In the meantime, I am using this oil in my research project.
Back in Stock:

20 on the 20th:
May 20% on the 20th Anniversary Sale promo code will be Anniversary and the 20% discount will be on all essential oils in categories I-J and K-L.

Stock up for Summer

A warning that as spring flies by, we are unable to ship our Baby Bottom Balm (or our Happy Baby Gift Set or Best Baby Gift, both of which both contain our baby balm), Shea Souffle, or the Melissa Calendula Lip Balm in summer's extreme heat. We don't want you to receive soup in your mailbox! Please keep the weather forecast in mind when ordering, and stock up NOW for summertime needs. Speaking of which, now's also the time to stock up on SkeeterBeater, After the Bite, and Sunburn Soother. We want you to have lots of fun in the sun!

Blog Updates
We haven't had time to write much, and we've not been sharing the articles that did get posted…so, the last few blog articles, since last we listed them:

Paying Forward
Thanks to your generosity we were able to send 545.00 to the Save the Children Federation's Nepal Relief effort. Thank you all for helping us make a different in the face of so much devastation.
As always, thank you for allowing us to continue doing what we love, and we wish you joy on your aromatic journey.
To sign up for your own copy of our email newsletter, please click here.
April Newsletter
This newsletter contains:

Special Sale for April and Part of May:
We're anticipating a lot of May flowers from all these April showers, and offering some of our favorite floral oils at 10% savings. Save on exotic, fruity Osmanthus, Osmanthus 10% Dilution ; delicate Neroli and Neroli 10% ; Orange Blossom Absolute and Orange Blossom Absolute, 10% Dilution ; all three Jasmines (both full strength and in 10% dilution), lush and exotic Tuberose and Tuberose 10% ; the Organic Rose Otto and Organic Rose Otto 10% mentioned below; and our Russian Rose Absolute and Russian Rose Absolute, 10% (perhaps the best bargain of all the florals). Also included, while supplies last, our White Ginger Lily and White Ginger Lily, 10% from India. Again, while supplies last, Ylangylang Complete and Ylangylang Extra. We are restocking, but there have been delays, so if we run out, we apologize. We had hoped to have a new supply of pure Golden Champa in time for this sale, but our producer is being dilatory in shipping what we ordered. We do have our Golden Champa 10% available.
Mother's Day is coming! Many mother's favorite gift — Bliss Bath! Save 10% on all our various "flavors" of Bliss Bath.
As usual, bulk sizes, kits, and samplers aren't included in this sale.

NEW and Back in Stock:
A LOT of back in stock products: two Frankincense oils, our Organic, from Somalia, and our CO2 Extracted Boswellia carterii, (my favorite for aromatic and emotional uses). The arrival of the two Frankincense oils let us put our Frankincense Sampler back online, as well. We've restocked our "sweet as candy" Midwestern Peppermint and brought in more English and German Chamomiles from our British producer. We've also restocked our organic Bulgarian Rose Otto — the benchmark of what a true, traditional rose oil should be.
A brand new Sandalwood, higher in santalol than our 2014 Sandalwood Tamil. Another Santalum album, from Tamil Nadu, India. Also a 2014 distillation, but I think this oil contains a greater proportion of heartwood.
A brand new Biodynamic Bergamot. Biodynamic agriculture is the most holistic form of farming, with the greatest respect for the earth and its bounty. Not only is this cold pressed Bergamot oil aromatically beautiful, but it is one of the most energetically powerful citrus oils I've experienced in a long time.

20 on the 20th:
We thought we would offer our anniversary savings on some of our blends and synergies this month. In keeping with Mother's Day preparation we are including in our Anniversary Sale our " Natural Perfumery " group of products, our " For Women Only " blends and products, our " Cleopatra's Secret " products (the most popular skincare products we have EVER offered).
And, because we Mom's are emotional creatures, our blends and synergies for Emotional Well-Being. Just a suggestion… I wouldn't necessarily suggest buying your mom or your wife our Moondays or La Rosa synergies for Mothers Day unless she has already asked for them! On Monday, April 20th, use the discount code 20Years and save 20% on all the products in the above categories.
As usual, bulk sizes, kits, and samplers aren't included in this sale.
To sign up for your own copy of our email newsletter, please click here.
Nature's Gift September Newsletter
This newsletter contains:
September New and Back in Stock products
September Sale Items
Labor Day Special Sale
Conference Contest, last chance
Research News
Blog Update
Back to school
Quote of the month
New and Back in Stock:
New Arrivals: Yuzu Absolute, Violet Leaf Absolute, Rosemary Verbenon, Cape Chamomile, Helichrysum italicuum Essential Oils, NEW oils: Helichrysum gymoncephalum and Helichrysum crispum (Cape Helichrysom), Vetiver Sri Lanka, and an amazing Osmanthus Absolute…so special we have named it Osmanthus Mielleur… French for BEST. Exciting new Hydrosols. Cape Chamomile, Rose de Mai, Rosalina, Fragonia™. Back in stock: Teatree, Lemon Teatree and Roman Chamomile Hydrosols. I've been kept busy correcting prices and adding in all the "back in stock" items. See all of these on our New and Special page.
SPECIAL SALE ITEMS:
A clearance on our earlier Osmanthus Absolute. All that is left is a wee bit of the 10% dilution. Save on two end of summer hydrosols, and CLEARANCE on our Bulgarian Rose Hydrosol (as we make room for a new French Rosa damascena hydrolat. For the Autumn Equinox we've marked down the close of summer (Summer Sunshine) and our Autumn Sunshine Synergy, to celebrate the Autumn Equinox.
SYNERGY Of The MONTH:
Something new for you, we have decided to offer ONE of our synergies each month in a bulk, 30 ml size. For September it's our back to school study blend, FOCUS. Order one fluid ounce for 2.00. Six 5 ml bottles would be 6.00.
Back to school features: Our normal 5 ml size of FOCUS is on special sale, as is our new Trauma Oil for back to school first aid.
LABOR DAY WEEKEND SALE:
Starting right now through Midnight, Monday night, September 2, enter the Promotional code Autumn and press apply. The discount will range from 12% to 18% through out the three day weekend. Covered items include all essential oils, hydrosols, carrier oils, and aromatherapy products. Specifically excluded are all kits, special books, clearance and bulk items, or any other product specifically marked "no other Nature's Gift discount may apply." Free shipping may not apply to any order using this code. The discount shown on your order confirmation is what will be used. Discounts may not be applied retroactively. Please don't ask us to change or add to an order after it has been placed. We know from experience that we will be totally slammed on Tuesday when we return to work and will not be able to accommodate any changes or special requests. (Sorry, but it's not fair to everyone.)
CONFERENCE CONTEST
The Alliance of International Aromatherapists is holding its biannual conference in St. Petersburg FL on September 19th to 22nd. This is a 'don't miss' for serious aromatherapy students. Nature's Gift has an extra ticket to the conference, to be given away. Email marge at naturesgift.com, with the subject line CONFERENCE and tell us why you should be chosen to receive the ticket. The winner will be responsible for his/her own lodging and transportation, the ticket is for the conference only, not the preconference workshop. See the list of speakers here. Please don't ask to be considered unless you know you will be able to attend. Don't take someone else's chance unless you are serious about this. The winner will be chosen during the first week in Sept. so please, if you are entering, email me by Labor Day at the latest.
RESEARCH NEWS
At this months AIA monthly teleseminar, our friend and client Debi Rodriguez, from St. Claire Hospital in Wisconsin was one of the presenters. The topic was essential oils vs MRSA, and they shared some "in process" research that we have been involved in and supplying the oils for. Exciting news. Debi shared several successful case studies using our MERCY Body Wash and Treatment Gel, and new research which may lead to new products or changes in existing products. We are learning that the combination of Manuka Oil and Tea Tree Oil is more effective than Tea Tree alone. And that for reasons totally unknown the blend of oils that is currently showing the best results is more effective in aloe gel than in the body wash. So we may be reformulating the MERCY gel once the results are in. Also, althought it is too irritating to be used topically except in extremely weak dilution, it seems that the vapor alone of high-myrcene Cymbopogon citratus from Madagascar (yes, lemongrass) is effective in the laboratory tests. They are currently starting "in vivo" trials, using volunteers whose nostrils are colonized with MRSA, to see if this lemongrass will remove the MRSA colonies simply by inhalation. Exciting times!!!
Blog Updates:
We have been so busy pouring and labeling and pricing all the new goodies there has been little time to write. But someone, a newcomer, asked a question based on a false assumption, and prompted a GLORIOUS rant. See "GC/MS Analysis = Guarantee?" if you want to read my rant. (I shared this link on Facebook and it has gathered a LOT of comment, especially among our professional colleagues.)
Back to school ideas:
Butterflies in the tummy? Lots of little ones have some anxiety about being left for the day. One of our former staffers used a bottle of Neroli Hydrosol. Her little girl called it her "butterfly spray" because "it made the butterflies in my tummy fly away." Something to remember.
Head Lice: (No, none of us like to talk about them, but they do show up during the school year.) Recently Christi was corresponding with a client about possible remedies, and shared the following:
Okay, as I mentioned Eucalyptus oils but also Red Myrtle is effective according to some French research.

In researching this new oil I came across a note made in the late 90's: a French research team had found previously that myrtle oil was effective against lice, and attributed the effective ingredients to cineole and, to a lesser extent, alpha-pinene and linalool (Gauthier et. al., 1989). My note does not show how the Myrtle oil would be used; but I suspect it would do no HARM do make a 5% dilution in Jojoba, coat the hair and scalp, let stand (perhaps wrapped in plastic or a shower cap) and later shampoo out. (per Marge)

Also an old blog article: http://naturesgiftaromatherapy.blogspot.com/2009/02/head-lice-essential-oil-solutions.html

Hope that helps!
Hand Sanitizers: If your child's school requires them, and if you object, or if your child is allergic (our Josh's hands turned beet red when forced to use the schools alcohol-based sanitizers!) your teacher may approve of KleenHandz as a gentler, more natural alternative.
Our Clients Share:
On Facebook recently Karlene Dooley Vickers shared this idea:
Took your sample vials and put together single samples of synergies for aromabaths!!! I took those and put them in individual tiny ziplock bags (the ones designed for beads from the hobby shops) nd labeled them with the the contents and instructions for use!!!! My daughter loved them!!! Nature's Gift brings health,happiness and healing to our lives!!!!
Bless your heart, Karlene, I love that phrase.. we bring "health, happiness and healing"… thank you!!!
And Tess Clark reminded me of a formula that Angela Eaton had shared a few years ago: "Bliss Drops – Equal parts of White Ginger Lily, Vanilla, and Sandalwood, all in 10% dilutions." I think this will make a wonderfully Autumnal Perfume in a few more weeks!
And Karen Neal shared (just before the fourth of July weekend):
Skeeter Beater is the bomb especially when dealing with those dreaded Asian Tiger mosquitoes but on the rare occasion you are bitten, After the Bite is an awesome EO blend. I am so glad I ordered After the Bite is works fast to take out the sting and itch. PS…may not be meant to use this way but did wonders for an itchy rash too. Time to order again with the wonderful holiday savings for the 4th of July.
Marge and crew, you rock!!!!!
Thinking this is appropriate since the Asian Tigers are here in TN and we have another holiday sale coming for stocking up!
Quote of the Month:
"[T]hat old September feeling, left over from school days, of summer passing, vacation nearly done, obligations gathering, books and football in the air… Another fall, another turned page: there was something of jubilee in that annual autumnal beginning, as if last year's mistakes had been wiped clean by summer." —Wallace Stegner, Angle of Repose
To sign up for your own copy of the newsletter to be emailed to you, please click here.
This newsletter contains:
HEARTBLEED SECURITY BUG—NOT HERE!!!!

By now the whole world has heard of the massive "HeartBleed" security bug affecting many major ecommerce websites. Fortunately there are independent sources to TEST your favorite website. We have successfully tested our site and our shopping cart and Nature's Gift is NOT infected. As always your confidential data is safe and secure with us. You may test us, or your other favorite ecommerce sites here. Our results? "All good, naturesgift.com seems fixed or unaffected!"
TAX DAY SALE
On Tuesday, April 15th, use the promotional code TAXDAY (all one word) and save 15% on almost all retail sized products. Kits and bulk sizes excluded. Enter the promo code at checkout, press apply, and see the discount reflected on screen. If you do NOT see the discount please go back and reapply; we can not apply it retroactively. (There has to be a bright side to the day our income taxes are due!)
Showers of Savings
Sale pricing on these products are available ONLY on our new and special page. Harmony skincare products, for combination skin. For spring storms and April showers, all of our favorite anti-fungal oils to banish mold and mildew: Cedarwoods, Lavandin Super, Lemon Eucalyptus, Manuka, Myrrh, Palma Rosa and Tea Tree. Save 10% on all.
NEW PRODUCTS
Piñon Pine INFUSION : infused with aged Piñon resin and Gardenia Infusion …blossoms infused in Apricot Kernel Oil…lighty scented moisturizer for hair or body.
Back in Stock
From our Indian producer: new shipments of Himalayan Lavender, Holy Basil, Davana, Frankincense Serrata, all of our Jasmine Absolutes, and delightful White Ginger Lily. Hydrosols of Himalayan Cedarwood, Jasmine (Motia) and Tuberose.
From around the world: Neroli, organic Atlas Cedarwood (Stock up on the Cedarwood, it will improve with age), cold-pressed Coffee, Bay Laurel, wild harvested on the island of Crete, Bulgarian Tobacco Absolute, wonderful for men's fragrant blends. See these, and more on our new and special page.
BLOG UPDATES
In March we rather outdid ourselved blogging (unfortunately there's been not time in April for any writing.)
A grumpiness blend, to ease the grumpies and grouchies.
A doctor's Rx of " monster spray " and our suggested alternatives.
Aromatic acupuncture, for animals?
Fragrant blends for him.
Baby massage blends: safe and gentle.
Adverse reactions: a five-year-old hurt by neat application of oils.
EOs and Cats: a sad story.
Turkish Delight: wonderful bath blends.
Sore muscle blends.
and March ended with a large collection of suggested Bath Salt Blends.
OUR CLIENTS SAY
Carpal Tunnel
Christi is trying to delay carpal tunnel surgery, and has used all of our suggested blends with mixed levels of success. The other night she did something we normally don't recommend. She put some of our Arnica infused oil on her wrist, and layered a couple of drops of Lavandin Super on top. (Lavandin super is a component of our Miracle Oil blend.) She said she got more relief from that simple combination than from any other blend she had tried. Definitely worth passing along and saving.
Cleopatra's Secret
GerryAnn Overly recently wrote (and gave permission to quote!):
I really like your Cleopatra's Secret Radiance. I had a lady stop me in the drug store to ask what I used for a skin cream because my skin looked so good. Thank you, Marge!!!
Bruising
We have had several clients comment on the effectiveness of a spritz of Helichrysum Hydrosol for bruises and other injuries. We knew it was a powerful anti-inflammatory for skincare, but had not realized that it was as effective a pain reliever and treatment for bruises.
Migraines
One of our clients, Teri Roberts, chair of the American Headache and Migraine Association, published an excellent article about Aromatherapy for Migraines and Headaches.
QUOTE OF THE MONTH
Now every field is clothed with grass, and every tree with leaves; now the woods put forth their blossoms, and the year assumes its gay attire. —Virgil
Spring has returned. The Earth is like a child that knows poems. —Rainer Maria Rilke
Never yet was a springtime, when the buds forgot to bloom. —Margaret Elizabeth Sangster
Hope you are having a wonderful Springtime!
To sign up for your own copy of the newsletter to be emailed to you, please click here.
Like most of the United States, we are experiencing the dreaded August "Dog Days." Our lawns and gardens are dry and brown, some of the trees are showing Autumn colors in midsummer.
We are fortunate to work in air-conditioned comfort…after all, the oils need "cool room temperature" so we wear sweaters. Our hearts go out to those who have to work outside, or don't live with air-conditioning. Stay safe everyone.
Enjoy!
CITRUS SALE!
Stock up and save! All of my beloved citrus oils at a 10% savings. Visit this page to see the list, discounts will be taken in the shopping cart. 15 mls only.
August Grag Bag
Suppliers send us samples. Sometimes they are products we buy and make available. Sometimes we choose not to. But the samples collect. We gathered a lot of them…took the original suppliers' labels off, and put one of our handwritten labels to identify the contents. Some are wonderful; some are..not! Some are roses and sandalwoods and… other rarities. With an over 0 order, simply mention "grab bag' in the COMMENTS at checkout, and, while they last, we'll send you one. please, no special requests! Yesterday the producer of our Osmanthus sent us a wee sample of this year's production. Yes, it will be added to the grab bag. (I already ordered a kilo…beautiful.)
NEW PRODUCTS
New to us, a USA-grown Clary Sage much higher in sclareol than our traditional European-grown Clary specimens. It is our understanding that sclareol is the component believed to give clary sage its phyto-hormonal effects. This is the oil we will be using in our Passages and Moon Days synergies when we blend new batches, and the oil we recommend for menstrual and menopausal difficulties. We will continue to recommend our French Clary Sage for relaxation and for pain relief.
Back in Stock
BACK IN STOCK: Floral Waxes! It has been years since we offered these useful aromatics—ready to enrich solid perfumes or enrich your balms and salves.
BACK IN STOCK: Containers—we finally were able to restock our wee Lip Balm Pots. We use these for sample size creams and lotions. Perfect for lip balms, solid perfumes, a wide range of uses. We've lowered the price by 20%.
BACK IN STOCK: Essential Oils—This is the time of year we restock. Shipments are en route from almost all of our favorite suppliers. New arrivals include Organic Egyptian Anise Seed, USA-grown Roman Chamomile, Lavandin Super organic from Spain, soothing Helio Carrot CO2, after a long absence we can now offer Owyhee, Brazilian Rosewood, just in today, Organic Haitian Vetiver and Organic Canadian Yarrow.
BACK IN STOCK: Hydrosols—from Morocco two organic hydrosols, Neroli Hydrosol Organic, and Rose Hydrosol Organic.
BACK IN STOCK: Carrier Oils—Canadian Cranberry Seed Oil, a new supply of Kalahari Melon Seed Oil.
We are almost out of our Yuzu Absolute, but, for affordability, Jim blended a small amount in a 10% dilution in Fractionated Coconut Oil. 15 mls only. Supply is very limited.
From our Indian producer: new shipments of Himalayan Lavender, Holy Basil, Davana, Frankincense Serrata, all of our Jasmine Absolutes, and delightful White Ginger Lily. Hydrosols of Himalayan Cedarwood, Jasmine (Motia), and Tuberose.
From around the world: Neroli, organic Atlas Cedarwood (stock up on the Cedarwood, it will improve with age), cold-pressed Coffee, Bay Laurel, wild harvested on the island of Crete, Bulgarian Tobacco Absolute, wonderful for men's fragrant blends. See these, and more on our new and special page.
BLOG UPDATES
It's been MONTHS since we shared updates on our blog:
I didn't realize how much I had written until I started this list.
OUR CLIENTS SAY
Cleopatra's Secret
Sandy Barret recently shared: "I've been experimenting with the Cleopatra line for a few weeks now, and I am really enjoying it! I use the wash daily; my dry skin is soft and smooth without feeling greasy, blemishes are clearing up. The serum smoothes out the fine lines and my over all complexion just seems healthier. The shower gel is giving me the same results, and it was nice to be spoiled by the bliss bath. I ordered the travel pack because there has been so much chatter over frankincense that I wanted to see for myself how well it really worked, and have been pleasantly surprised. Thank you for such great products!"
Shingles and Skeeters

Dear Marge & your wonderful staff,
A note to express my Gratitude for this amazing blend. My wife Paula introduced me to the Ravensara in Calophyllum for my recurring outbreaks of Shingles. It helps tremendously. Nothing else has. The vaccination has reduced the intensity but the blend stops the itching and reduces the blisters quickly.
Also use the Skeeter Beater as in South Florida the "Mosquito" is known as the state bird. I recently went on a Sea Turtle walk at a state park where you have to walk through a swampy woods to get to the beach. Most of the other walker's spent time swatting and complaining about there store bought repellent not working. Not me the skeeter's left me alone.
Thanks to you all,
Ron Wagner
(We love feedback like that, and we love it when folks give us permission to share!)
ADHD
I am hearing a LOT of feedback from adults with ADD or ADHD and parents of schoolaged children with this diagnosis saying that an inhaler with Vetiver seems to help ground and center them. No single solution works for everyone, but this would certainly be worth trying. Vetiver is known for its grounding effects.
Formulas and Hints:
A Travel Tip from Pam Parsons, editor of The Aromatic Thymes.
Immediately after checking in to a stale hotel room, Pam fills the bathtub with extremely hot water, and places several drops of her favorite aromatic oils in the tub. She then swishes the oils well using the hotel ice bucket. Since many of the aromatic molecules are carried throughout the room with the steam, her room soon smells wonderful. After an evening meeting, Pam returns to her room an hour or so later when the water is comfortably warm for bathing and most of the essential oils have evaporated into the air. She then slinks in to enjoy a healing aromatic bath. Pam's favorite oils for this purpose include cardamom, tulsi, sandalwood, frankincense, myrrh and/or vetiver.
Aromatics with Vetiver
Years ago my friend Karla shared these:
I love vetiver with sandalwood. A blend I made for a friend had
12 drops sandalwood
3 black spruce
5 vetiver
6 bergamot
3 black pepper
It was really nice.
Another was:
vetiver 10
sandalwood 7
spikenard 3
black pepper 3
bergamot 6
Roman chamomile 3
lime peel 3
black spruce 3
Both of those in 2oz of jojoba.
Bursitis
12 years ago Mary Jo wrote the following:
Hi Marge,
I woke up this morning and could hardly walk. I have bursitis in my right hip. I used a mixture of helichrysum, vetiver, black pepper, and jojoba oil. The pain decreased in about 10 minutes. I could walk without a limp for six hours. It was great!
I have also been in a horrible mood for the last few days (I'm dealing with a lot of fear). I must say, the synergy did wonders for my attitude. I walked around relaxed and on cloud nine all day.
Maybe you could pass along the recipe to fellow sufferers.
END OF SUMMER QUOTE:
"The fragrance always stays in the hand that gives the rose…"
I wish I knew the source.
To sign up for your own copy of the newsletter to be emailed to you, please click here.