Search Results for:
poplar balsam essential oil
Nature's Gift Veterans Day Sale and Newsletter
This newsletter contains:
November Special Sales and New Products
Holiday Synergy Sale
"Deal of the Day"
Veteran's Day – Free Shipping to Active Duty
ELEVENSES SALE – 11/11/11 SAVE 11% on EVERYTHING!
Clearance Items
Blog Updates
BRAGGING!
Our Clients Share
November Aromatic Quote of the Month
Enjoy!
SPECIAL SALES:
New and back in stock – Hydrosols, essential oils, NEW AloeButter for dry, parched skin, or for burns. Poplar Balsam essential oil – wonderful pain reliever and skin healer. New Relax Synergy, for stressfree sleep.
Our three Holiday Synergies – Holiday Joy, Winter Sunshine, and Three Kings – Save 10%.
NEW – "Deal of the Day"… or of the week, or the few days… one never knows. From now until Christmas we will be announcing some special (usually limited quantity) special sales. Check our Specials page frequently, or subscribe to our Facebook page to see what today's DEAL is. (Today's deal? 10% off all instock aromatherapy jewelry. Perfect early gift shopping…while they last, or until we change to a different deal.)
VETERANS DAY:
To thank our active duty servicemen and women we are offering free shipping to any order going to an APO or FPO address, or a military base on Friday, November 11th. I wish there were more we could do. I suspect if the addess is overseas, a small gift may be added to the order. Please let us know where the individual is stationed. No sense sending SkeeterBeater if it's midwinter there. We would like to do something for those serving; please help us.
ELEVEN$ SALE 11/11/11:
On November 11, 2011 (11/11/11, I love writing that!) we are offering an ELEVENSES sale. EVERYTHING in our shopping cart will be marked 11% off, if you will use the promotional code "eleven" without the quotation marks. Enter the promotional code in the box marked promo code, make sure your press apply, and SEE the discount reflected on line. SAVE on some NEVER before discounted products! Our listing of rare and hard to find books. Dr. Jane Buckle's Foundations of Aromatherapy course for health professionals. Our various kits. All the pages on the site marked "no other discount may apply." Everything is "while supplies last"…no rainchecks.
There IS one exception. We are taking our gift certificates offline that day. If you have a gift certificate, you may use it, but you can't order one during the sale.
And there will be NO free shipping, other than to the military personnel mentioned above 😉 Other than that? All's fair.
CLEARANCE:
We've added some "interesting" bottles and packaging to our Clearance page. Very limited quantities, and only while supplies last, of course. We "reworked" our Lavender Bliss Bath using the new, delightfully aromatic English Lavender. The remaining Bulgarian Lavender bliss baths are on Clearance, as well. There's a *little bit* of the "copper free" Helichrysum still available – marked 50% off. A small handful of last season's Hydrosols. Some of this and some of that. Some still on the specials page, some only on our Clearance Page.
BLOG UPDATES:
We've been busy blogging since our last newsletter:
I commented on some "Floral Waters" being offered by a huge supplier…one who claims to be "the most trusted name in aromatherapy" Okay. Interesting. I do NOT believe what's in those "natural" floral waters. You won't either.
Where's Peggy? (Well it should have been "Where's Peggy"..I spaced the name and mistitled it. A minor rant about outsourcing.
A guest blog about using the oils in a hospice situation to combat stress, by Lisa Browder.
This month I've already blogged about an exquisite oil I encountered at the recent AIA convention.
This week I reviewed Maggie Tisserand's new book, Aromatherapy vs.MRSA l, and shared some of the hints Maggie gives for dealing with this possibly fatal infection.
Inspired by "Aromatherapy vs MRSA" I shared some case studies from the AIA conference in "More about MRSA"
BRAGGING RIGHTS:
Yes, this is outrageous self promotion. But I am just SO tickled. I've been reading Dr. Kurt Schnaubelt's newest, " The Healing Intelligence of Essential Oils " on my Kindle, and getting very frustrated. The Kindle doesn't really encourage flipping forward to chapter 15 to see what he says about Hepatitis, or back to see what dilution he recommends for my beloved Helichrysum. Yes, I'm eagerly awaiting the hardcopy, while making do with the Kindle. But why are we bragging? Because, while describing his standards for authentic essential oils, Dr. Schnaubelt recommends a few sources. In the US he recommends four resources. My old friend Christopher McMahon at White Lotus, Michael Scholes of Laboratory of Flowers, his own Original Swiss Aromatics, and Nature's Gift. I am over the moon!!!!
Our Clients Share:
COCKROACHES:
People email and ask me about using the oils to repel cockroaches, and I didn't have an answer. Recently saw this in a Jeanne Rose newsletter:
PUT PEPPERMINT OIL AND A CITRUS OIL (Combava) OR MAY CHANG + a hydrosol IN A SPRAY BOTTLE AND SPRAY THEM.
(I'm thinking our new Grapefruit Hydrosol, or the Peppermint hydrosol, might be good bases for this!)
Repellent activity of essential oils against cockroaches:

Abstract

Seven commercial essential oils extracted from the plant species Boesenbergia rotunda(L.) Mansf. Citrus hystrix DC., Curcuma longa L., Litsea cubeba (Lour.) Pers., Piper nigrum L., Psidium guajava L.and Zingiber officinale Roscoe, and naphthalene as a control, were evaluated for repellent activity against the three cockroach species Periplaneta americana(L.), Blattella germanica(L.) andNeostylopyga rhombifolia(Stoll) under laboratory conditions.

The essential oil derived from Citrus hystrix (Combava Petitgrain) showed the best repellency over other candidate essential oils and naphthalene. The essential oil of Citrus hystrix exhibited complete repellency (100%) against P. americanaandB. germanica, and also showed the highest repellency (among the essential oils tested) of about 87.5% against N. rhombifolia under laboratory conditions. In the field, Citrus hystrix essential oil formulated as a 20% active ingredient in ethanol and some additives provided satisfactory repellency of up to 86% reduction in cockroaches, mostly P.americanaand N. rhombifolia with a residual effect lasting a week after treatment. Citrus hystrix essential oil has good potential for being used as a cockroach repellent. Further improvements in efficacy and residual activity may be realized with appropriate formulations. (Dictyoptera: Blattidae, Blattellidae, and Blaberidae) in Thailand.

Thavara U, National Institute of Health, Department of Medical Sciences, Ministry of Public Health, Nonthaburi, Thailand.
Combava petitgrain 20% in alcohol… as a spray… AHA.
ROSACEA:
A recent order (for our Rosacea Cleanser and Rosacea Treatment Gel, from a first time client) contained the following answer to our "Can you tell us who recommended us" question:
My integrative medicine doctor at XXX XXXX XXX, referred me. She heard about you from another patient with rosacea.
That intrigued me and I wrote back:
That is exciting reading… and, with your permission, I'd love to quote you… I can use (or drop!) your name…and I would omit the clinic's name.. but that is the kind of recommendation that is truly priceless. I hope they help you… NO product helps everyone…Rx or natural or whatever… but we've had really good feedback about the rosacea products. Again, thank you for making my day with your feedback! To which our new client replied:
Yes, I hadn't thought about it, but it is a nice endorsement. I was kind of surprised to hear my doctor recommend something so alternative (when usually it's about supplements) and she even included your Nature's Gift name in the online notes from my visit. Even though she's an integrative doctor, she is at a large teaching hospital which mostly leans toward more med based approaches, so I should also be glad she's thinking outside the box. I do hope this all helps also. I'm 57 and have had Rosacea for many years with only a few little pimples but in the last couple years my breakouts have gotten much worse. I just joined a gym for the Rumba classes and that intense exercise will hopefully not make it even worse. I had looked for your site a couple months ago and it didn't seem to be there, but I decided to try again and now you're back so that's great.
(Memo to me…follow up and see if it's helping.)
PSORIASIS:
A blend shared by my friend and mentor, Sylla Sheppard-Hangar:
"put on the blend of: approx 15 drops pomegranate seed CO2, 15 drops sea buckthornberry CO2 in 2 oz fractionated coconut and a bit of olive; one drop of rose for scent value). by the evening (12 hrs) all redness gone from cracks, and in 24 hours all cracks closed, smoother, less rough skin……will keep you posted"

I am ALWAYS amazed at the power of these oils… and the Pomegranate and Seabuckthorn berry CO2 extracts are just so amazing for so many difficult skin conditions!
DOGGIE CLEANUP:
Christi works long hours, and sometimes her "furkids" can't wait. She recently shared the following:
I make a spray for doggie accident clean ups, particularly poop clean ups. It is also good for cleaning around the bird cage & gentle on my wood floors. It is a 503 ml sprayer bottle (using a scant 16 ounces of water). I use about 40-50 drops of oregano, 30-40 drops benchmark thyme, and 10-20 drops of Rosemary Verbenon with distilled water & brandy. I use brandy because I had it around but you can use alcohol as well, just a small amount, & shake before using.
My note: I would add the essential oils to the alcohol first, then add the water and shake well.
ASTHMA INHALER????
A recent visitor was raving about her uses for Fragonia Oil. One thing she said that I'd not thought of, that she is seeing amazing results in treating clients with severe Asthma with the use of a Fragonia inhaler. My eldest grandson is a high school basketball player, and has frequent asthma attacks. The doctors are treating him with steroids, which he hates. This afternoon I made some Fragonia inhalers. Two will be sent to Bloomington for JT to try, one came home with me (it may help my COPD, and one stayed on Christi's desk for her, because she loves Fragonia. Remember, if using one of our blanks to create a single inhaler, use two or three drops of Jojoba along with the pure essential oil. The fixed oil seems to anchinhaleror the volatile EO and help it last longer.
Charity of the Quarter:
Magdalene House/Thistle Farms, helping women rebuild their lives.
AROMATIC QUOTE OF THE MONTH:
From The Healing Intelligence of Essential Oils
"By altering the way in which sensory impressions are transmitted to the brain, essential oils ultimately alter what we consider to be real. This means essential oils can change how we see the world — they can change our worldview. This can be of the highest significance for true healing."
To sign up for your own copy of the newsletter to be emailed to you, please click here.
| | | |
| --- | --- | --- |
| | | This newsletter contains: |
BACK IN STOCK: Tis the season for restocking!
Recent arrivals from France:
Our long awaited Wild High Altitude Lavender —la crème
de la crème—also fresh distillations of
all three of our organic Lavandins, more Lavender Mailette, and (in
my opinion) our best value— Population Lavender. We are in process of
having all of these oils tested, but for now the GC/MS analysis on our website
is from the 2013 distillation. Also from our favorite producer, both
organic Thyme Linalol and rare Thyme Thujanol. Sourcing French Thyme
was a challenge this year, and the cost of the Thujanol chemotype has escalated.
Why? Because there was a drought in the high regions of Provence this summer. "But," I asked, "Thyme thrives in dry weather, why is there a shortage?"
"Ah yes, the thyme did well. But the grass died, so the goats ate the thyme."
We also were able to bring in a bit more Mastic. Amazing stuff!
New arrivals from Canada:
Organic Yarrow Hydrosol and more organically certified Wild Carrot Seed Hydrosol, as well as a new shipment of our organic Juniper Branch and Berry Oil and a small amount of healing Poplar Balsam Oil.
Just arrived this week, again from France:
Helichrysum Hydrosol, Wild Carrot Seed Essential Oil and new to us, Criste Marine Essential Oil, Crithmum maritimum, is commonly known as Sea
Fennel or Samphire or Rock Samphire. Reputed to be a powerful diuretic, said to
have both anti-oxidant scavenging and firming actions in skin care.

We also received a new supply of our Oxygen Barrier…for
those who purchase bulk sizes of our oils, this will help prolong their shelf
life.
NEW BLEND:
We have had a lot of requests recently for people wanting a
blend to support friends and loved ones in Hospice care. The name
that kept running through my head was Peaceful Crossing, a blend of
Frankincense CO2 for calming, centering and connecting with the Sacred, Atlas
Cedarwood, to calm anxiety and ease fears, Cypress, for comfort in times of
loss, Blood Orange, our sweet anti-depressant, Rose Otto for calming grief and
hysteria, and Spikenard, known for helping achieve inner peace, and releasing
fears and resentments, the oil of forgiveness. This blend was designed to
aid both the individuals preparing for the crossing, and the loved ones at their
side. Available undiluted to use in a diffuser or inhaler or in a skin safe
anointing oil (in jojoba oil) for topical use.
AUTUMN SPICE SALE:
Autumn seems just the right time to enjoy the gentle spices. Until our next newsletter, save 10% on 15 ml sizes of all our
seasonal spice oils: Allspice, Cardamom, Cassia, Cinnamon Bark, Cinnamon Leaf, Clove Bud, Coriander, Ginger, Ginger CO2, and Nutmeg CO2. (Yes, the comment about our Allspice oil, below, is what prompted this spicy sale.)
HALLOWE'EN SALE:
On Friday, October 31st use the discount code TRICK and save
12.5% on retail sizes of all our essential oils, absolutes, and CO2
extracts. (Retail sizes are 2, 5 and 15 ml bottles.)
OR, on the full Hallowe'en weekend, from Friday the 31st
through Sunday night, November 2nd, use the discount code TREAT and save 10%
on almost all of our products.
Special books, kits, and bulk oils are
excluded from either sale.
ENJOY!
AMAZON KINDLE SALE
on both of Marge's Books. It has been a year since we
released the Kindle version of

Essential Oils and Aromatics.
To celebrate, from November 1st through November 3rd save on both of our
books,

Essential Oils and Aromatics and
Essential
Waters. These are "countdown" sales. On Essential Waters,
save over 50% for the first 36 hours of the sale, then save over 25% until
the sale ends. Similar savings on Essential Oils and Aromatics.
OUR CLIENTS SAY:
Recently a Facebook group that shall remain anonymous hosted
a discussion of "which supplier do you prefer." Amid all the MLM
recommendations from avid fans one message jumped out at me. Jennifer Berry wrote:
When I was starting out 20 years ago, I found an online
store called Nature's Gift that was taking painstaking care to import
high-quality, 100% pure essential oils, and was sharing safe, accurate, and
useful information to enhance their use. In 20 years Marge Clark and her crew have never steered me wrong or sold me a bad product, and I've learned as much from their website as from any of the books
I've read. You will not be disappointed.
I shared that with Christi…it touched both of our hearts,
and we thank Jennifer, both for her lovely comment, and for letting us share
it with you.
Re Allspice Oil:
Dear Folks at Nature's Gift,

I just wanted you to know that my recent
order, which included Essential Oil of Allspice, absolutely
rocked my world. The Allspice is very special and of exceptional
quality: It is all at the same time, sharp, warm, clear, deeply
spicy, exotic, familiar, and luxurious. I think it should be added
to the official list of aphrodisiac oils! I have long loved the
warm oils, but this one in particular, is of exceptional quality it
every way. The others I ordered were also of amazing quality (the
Ginger Root CO2, especially)….but that Allspice!! There are no
words! Sigh. Thank you.

p>This was my first order from Nature's Gift, and I am
so pleased, you can be sure that I will be a regular customer.

Sincerely, Jacqui J
Now, it's not often we get a chance to rock someone's
world, so I thought we'd share this. I suggested to Jacqui
that next time she might want to sample Bay Laurel, since she loves
the warm spices. I think it will also appeal to her.
A Warming Blend
Dannie Lane, of AromaTherapeutics Medicinal Aromatherapy and
Massage shared this energetically (and physically!) warming blend last
winter. I thought it would fit in well with our Autumn Spice sale:
Ok, it's cold out, very, very cold! This is Atlanta, we
should not have highs in the upper 20's with wind chills in the mid teens!
Well I work out of my home and have some clients coming over this afternoon
so I want to make something warming, something to make the place "feel"
warm and welcoming. So I mixed up a blend of EOs that are energetically warm
to diffuse. The mix is:

In a 5ml bottle with a dropper top blend

Ginger 50 drops: strong warming oil, gives a feeling of comfort and warmth,
openness
Cassia 25 drops: strongly warming to the body, not as HOT as cinnamon gives
the feeling of comfort (I like how it smells when defused better then
cinnamon)
Allspice 10 drops: it smells good, and gives energy to the place/home.
Black Pepper 15 drops: soft and light, gives a gentle warmth to a room,
think of it as a warm hug.
Cardamom 15 drops: love this oil, warming, sweet and spicy, but gentle at
the same time, very uplifting to the mind
Lemon 13 drops: light and sweet uplifting to the emotions and the mind.

Add the EOs, one at a time, after adding each oil, swirl to mix and smell
the blend. When adding each oil, think of WHY you are adding it and what you
want the blend to do.

Warning!!! These are powerful oils, defuse for 10 to 15 min at a time and
stop for 30 to 45 min, then defuse again for 10 to 15 min. I would not let
the defused oil get on finished surfaces!
An Autumn Blend from 14 years ago:
My friend June recently contributed this lovely seasonal blend for the diffuser or lamp:
Autumn Forest Blend
I just put together a forest-type blend of 15
drops Black Spruce, 1 drop Atlas Cedarwood, 1 drop Galbanum and have
it in my nebulizer right now. Lovely, rather like the woods on a
late autumn afternoon after a rain. Woodsy but with a touch of
composting leaves, very reminiscent of childhood walks in New
England. It will be interesting to see how it mellows after a few
days. I might even try this in a bath, diluting it in some Jojoba
oil first, or try it for meditation. Most intriguing.
This transplanted New Englander gets homesick every
October… and this blend DOES smell like home!
Sleep Sweet Linen Spray from Chasa Cochran of Back to Square One:
4 fl oz vodka, 20 drops Green Mandarine (Citrus reticulata), 14 drops Lavender (Lavandula angustifolia), 6 drops Himalayan Cedarwood (Cedrus deodara), and 4 drops Blue Tansy (Tanacetuum anuum)… add essential oils to the vodka, shake well and spray your pillowcase.

BLOG UPDATES:

Most of our blog articles have been concerned with our newly
redesigned website. If you haven't visited yet and have questions you
might want to browse some of the articles introducing it:


Some Screen Shots introducing the changes.


How to change your password (because the new site will assign you one at
random.)

Missing the alphabetical "Quick Order List"? We've added
one.
How to find and use it.

Also, Lisa, the talented graphic artist on our design team
has written a great TOUR of the new site.
Not on the
blog, but on the site itself, here.

And for a change in pace, "a day in the life" of Nature's
Gift. A HUGE order from a hospice for a product we don't normally make
in large batches.

See how we got it together here.

FACEBOOK TIDBITS:

Natural perfumer Christine Malcolm, of Santa Fe Botanicals
shared this wonderful
You
Tube video about distillation in France, Bulgaria and Hungary.

A wonderful blog article by Victoria of Bois de Jasmin about
the use of

Citrus oils in fine perfumery.

A published research study showing the effectiveness of

Marjoram, Lavender, Black Pepper and Peppermint on patients with chronic
neck pain.
Quote of the month:
"I'm so glad I live in a world where there are Octobers."
(L. M. Montgomery, Anne of Green Gables)
To sign up for your own copy of the newsletter to be emailed to you, please click here.
This is not the sweetly-scented Extra Virgin Coconut Cream Oil we offer elsewhere, but an odorless, white, instantly melting cream, enriched with the center gel filets of organically grown aloe leaves. This has all the creamy richness of coconut cream oil with the soothing healing anti-inflammatory properties of aloe vera. Please note that this creamy emollient melts instantly at below body temperature. If you live in a warmer climate we strongly suggest that you order our 16 ounce bail jar size; we are concerned that the smaller jars might melt in transit.
Ideal to counteract winter's harsh winds and cold, soothing chapped hands and faces, or to treat a sunburn or kitchen burn. Warm it gently in a bowl of warm water to add your favorite soothing essential oils. Lavender for a burn perhaps. I'm thinking a touch of Poplar Balsam for healing irritated skin or small wounds. There are so many directions we could go with fragrancing this wonderful healing balm. We looked at the range of possibilities, and decided to leave it up to you!
As with all of our butters, since there is no added anti-oxidant, please only purchase what you will use within the next year, and store it under cool and dark conditions.

Our coolest essential oils and hydrosols–we are putting retail sizes of all of our mint oils and hydrosols on special sale at 10% off. The price is already discounted in the shopping cart, so you may still use any other discount codes.
Vacation Savers
Even though school is starting here in just two more weeks, many are still planning their vacations. Save 10% on all the products that can prevent or ease problems that can spoil your vacation: See details of both sales on the Nature's Gift front page. See also our list of brand new or back in stock products.
Going, Going, Gone
Several products are running low and will not immediately be replaced. Shea Nut Oil, Monoi de Tahiti, Poplar Balsam 10% dilution (the undiluted is gone), Our Elemental Blend Spirit, the Air blend. We have sold out of the anointing oil of Rick's Valour Blend, but have a single undiluted synergy left (a blend for spiritual courage, created as a result of the events of September 11).
Shipping Savings
You now have a lower cost option for shipping lightweight orders. First Class shipping is available for orders whose total weight, including packaging, is under 1 pound. Our shopping cart will do the work for you and offer first class shipping if it is available for your order. Also, we have lowered the minimum order for our SHIPFREE discount. From now on, orders over 5.00 are eligible for the shipfree discount code. Remember, you can only use one discount code per order. Free shipping is never automatic; you must use the SHIPFREE discount code.
Blog: What I Learned
Buddha Wood CO2 –all sorts of wonderful other uses.
Our Clients Say
Cleopatr's Secret Serum
Teresa Wilder wrote, "I left a review but had to say again how amazing this serum is. My face hasn't felt or looked this good in months. It isn't itching from being dry. Dry skin has NEVER been a problem for me and it took me several weeks to figure it out and find the right products. Your rose Hydrosol is a staple for my face but once I added the serum I was wowed!"
Heavy Leg Syndrome
Victorina, from Chicago has been having really good results using the hydrosols (especially Roman Chamomile Hydrosol) to help her cope with Heavy Legs. She writes, "I find these hydrosols relieve the tension that can build up all over the body while resisting the fatigue that comes from the condition itself and because I like to stay active and selectively keep moving. I was unbelievably tired doing this at first but I'm gaining quite well as I persevere. It's important to do what one can to strengthen or support the valves while not over stimulating the circulation too much for them to handle. Sort of like filling a balloon is the way it was put to me. An interesting energy balance challenge, don't you think?" Yes, I do think, and I'm glad the hydrosol spritzes are helping!
Serious Bruising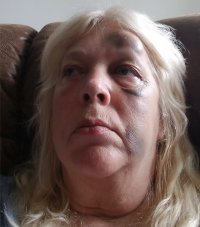 Susan K wrote the following (and gave us permission to share both her words and the picture): "I hit my head rather hard nearly 3 weeks ago and my face has been purple. I can't find my heli, so yesterday when I received my Sunburn Soother I applied it to the bruises and reapplied before bed. The lowest bruise lightened more than 50%!! AMAZING!
I know from past experience that the Sunburn Soother works just excellently on bug bites, too!
I just had to let you know, in case you didn't know already.
THANK YOU SOOOO MUCH!!!"
Helichrysum is a major component in our Sunburn Soother, so that makes sense. I'm so glad it helped and that Susan is well on her way to recovery!
Recycling
Did you know that our bubble mailers (If we use them) *and* the bubble wrap your bottles are wrapped in may be recycled where you recycle plastic grocery bags? (Not with normal plastics, although our PET bottles may go with other plastic recyclables.) We really do try to be good stewards. The pretty tissue we wrap with is recycled. The paper we print orders on is recyled. When available we use packing peanuts that may be composted, made of cellulose. When, for some reason those are unavailable, the "green" peanuts are made of recycled styrofoam. We have considered doing away with the peanuts but without them the risk of breakage is too high. We try to strike a balance between ecological sensitivity and getting your products to you safely.
Blends from August '09 Newsletter
Patience Blend
"Dear Marge, That Mentha citrata, Linden Blossom, and Vetiver blend for patience is really nice. It has a gentle summer breeze scent that I find very pleasant."
Which, of course, meant that I immediately had to go get scent strips of Mentha citrata (Bergamot Mint,) Linden, and Vetiver and try them together. Of course I was working with relatively equal amounts, and the Linden and Vetiver somehow were a bit too deep for me. I got nothing of a "gentle summer breeze" from it. (Of course the original blend probably had a LOT more Bergamot Mint than the other two oils… but I don't know that.)
At any rate, I wasn't pleased. But then I touched just the very TIP of a scent strip to our new organic Spearmint. Perhaps 1/10th as much of the spearmint as of the other oils. And, all of a sudden, that little bundle of scent strips reminds me of a light summer breeze. Amazing! (Now, why would those three oils contribute to "Patience"??? I have no idea. But it's amazing what I find when I go through old email archives!
Another Summer Blend
Quoted from a years-old midsummer newsletter: Misty was playing this morning and came up with a delightful light summery perfume or diffuser blend…one drop each of Spearmint, Ylangylang, and Tuberose 10%…
(or 10 drops each of the Ylangylang and Spearmint with one drop of undiluted Tuberose) She's thinking of making a room spray, I have it in the aromalamp on the shelf over the desk. Yummy! (She used Ylangylang extra, but I think whichever you have on hand would work well.)
From that Same Newsletter
Summer Aromatic Quote
"Here's flowers for you;
Hot lavender, mints, savoury, marjoram;
The marigold, that goes to bed wi' the sun
And with him rises weeping: these are flowers
Of middle summer, and I think they are given
To men of middle age."
—A Winter's Tale—Shakespeare
Have a wonderful rest of the summer everyone!
<!–p>
</p–>
This newsletter contains:
Welcome Rachel!
Nature's Gift has a new smiling voice. We are delighted to introduce Rachel, who brings excellent office skills, experience with social media that we all lack (expect exciting changes once she gets fully acclimated!) and a sunny attitude. Our Christi is going on an extended medical leave later this month, so we started a search for someone to try to fill her role at Nature's Gift. We were delighted to find Rachel. She does not have aromatherapy training, but is eager to start on a distance course. Meanwhile, she is studying our blog, our product descriptions, and soaking up information like a thirsty little sponge. We are so excited to have found her, all of us feel she is the perfect addition to the Nature's Gift family. Please help us welcome her, as Christi trains her on all the blue million things that she has done to keep our little craft sailing smoothly. I asked Rachel to write a blog article telling us all a little bit about herself. It's available here.
September Sale Category—Lipids

In September, it is time to think about changing from our Summer Skincare routines to ones more appropriate for cold weather, dry inside air, perhaps put aside Summer's light moisturizers in favor of something a bit richer.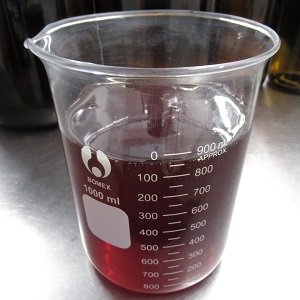 Because of this, we are putting our entire Fixed Oils/Carrier oils category on a 10% discount. Prices are reflected in the shopping cart, no coupon needed. Shop and save on our array of Individual Carrier oils (including our rare CO2 lipids,) our Sampler Kits for various skin types, our ever-growing list of herbal and floral infused oils, our Butters, additives and enrichments and Waxes (floral wax and beeswax).
New and Back In Stock Products
Essential Oils
Benzoin, now packaged in a glass jar, a stunning new Indian Sandalwood, our Sandalwood Tamil 2018, a tiny bit of French Thyme Linalol.
Carrier Oils/Lipids
Hydrosols
Helichrysum Hydrosol (organically produced in the US), Rose and Neroli
Redesigned and/or back in stock kits
Now that we have more Helichrysum Hydrosol, our Rosacea travel kit is available, and we have redesigned our Pure Sandalwood Sampler (adding more oils).
Books
Back in stock: Both of Madeleine Kerkhof's books: CO2 Extracts in Aromatherapy and Complementary Nursing in End of Life Care. We also have been able to restock a few copies of my book, Essential Oils and Aromatics. (Yes, of course I will sign it for you!)
Found in Inventory
4 ounce malibu jars, with a hanging hook (and Malibu style lid, of course!) PERFECT for the shower! Package of ten for.99 plus S&H
Blog Updates
The last time we did a blog update was early June, when we announced our series of CO2 blogs. Time has not allowed for a whole lot of writing since then, but you might be interested in:
Essential Oil Irritation?
Spilled essential oil on your skin? Ouch! This is the best and most effective way to treat it. (Hint: it does NOT involve putting a carrier oil on top.)
Rose—Rose Geranium—Geranium?
Confused? Lots of folks are. We attempted to sort it out for you here.
First Aid Kit?
From 20 years ago, suggestions for your essential oil First Aid Kit: (Hint: pre-dilute so they are ready to use, because in an emergency you do not want to have to be counting drops and blending!)
Which lavender?
Which lavender is most useful for a specific purpose is often determined by the chemistry. Higher in Lynalyl Acetate will probably be more relaxing. Higher in monoterpenes and monoterpenols should be more effective antibacterials. This chart will help you compare. (Yes, it would be easier if you could just scroll across the screen and compare line by line. The blog formatting would not allow that. Sorry!)
Aromatic Salves?
Tina Sams, editor of The Essential Herbal Magazine shows us how to use all our exotic fixed oils to make healing balms for dry skin, baby's bottom, pain relief, respiratory relief (the traditional "chest rub"), lip balm… you choose.
Facebook Gleanings
Facebook is for fun, and keeping up with friends and distant family, but we try to share new information with our Facebook friends as we find it. Examples:
A free for download Mini Magazine from The Essential Herbal Magazine
We discovered a years-old blog by "The Prevailing Parent"… Which is their favorite essential oil company, and why? (I loved following the steps she took.)
" Beyond the Essential Oil Recipe Summit " We are so tired of "EO Summits" put together by folks with no training in safety, making wild claims and doing damage. Finally, a summit whose participants are mentors and friends, experts in the field that I respect immensely. Elizabeth Ashley (you've seen me rave about her Ebooks!) has been interviewing so many of my teachers, mentors, and peers. (and me, too!) The summit will stream in late November. It's my understanding that you can hear any interview once, the day it streams, at no cost, or you can subscribe and have long term access to them all. I was honored to be asked to participate, and still do not believe some of the intensely personal information Liz pried out of me More info as the dates approach.
The N.Y. Institute of Aromatic Studies shared a wonderful blog about Monarda Essential Oil. (Yes, of course we offer it!)
A reminder. I am a member of Quora.com, a community where people ask questions, and folks (knowledgeable or not!) answer them. I frequently copy the Q&A to our Facebook page, or send them out on Twitter if the might be of general interest, so if you are on there, I'd love to have you follow me.
Tisserand Institute published an article about the use of the various oils of the Bitter Orange Tree to relieve anxiety. (Something I've been telling you for 20 years.)
The Aromapologist blogs about the use of essential oils in the classroom.
Black Cumin Oil topical relief for pain in osteoarthritis.
Our friend Nyssa Hanger shared a " Get up and Move " stimulating blend published in Massage Today.
Book Review
In searching our old newsletters for a September "Quote of the Month" I found this review of my (then brand newly-published) book:
"Founder of Nature's Gift ( naturesgift.com, reviewed in Massage Therapy Journal Summer 2007), Marge Clark describes in this beautifully illustrated little book how to use essential oils for easing pain, combating infections and nurturing emotions. She discusses how to discern high-quality oils, as well as how to store your essential oils safely based on their "notes." She provides detailed descriptions of some of the most useful oils, including safety warnings. She also offers a valuable list of carrier oils, and discusses how undiluted essential oils are powerful enough to sensitize and irritate the skin, causing dermal inflammation and allergic reactions. Topical applications using diluted essential oils, such as baths, compresses and massage are described. Undiluted oils, she says, can be used in diffusers and nebulizers, when inhalation is appropriate. Convenient charts showing uses and effects of essential oils are included, along with amounts for full body and localized massage sessions, and recipes and blends for skin care, emotional well-being and clearing the air. This beautiful little book is a substantive contribution to the instructional literature on aromatherapy."
"a substantive contribution"… oh WOW! I absolutely love it." (Loved it then, and still do!)
Aromatic Quotes of the Month (from Sept. 2008):
"The foliage has been losing its freshness through the month of August, and here and there a yellow leaf shows itself like the first gray hair amidst the locks of a beauty who has seen one season too many."
Oliver Wendell Holmes
(and a new one!)
"Ah, September! You are the doorway to the season that awakens my soul… but I must confess that I love you only because you are a prelude to my beloved October."
Peggy Toney Horton
The scent of citrus and of brittle pine
Suffused the island. Inside, she was singing
And weaving with a shuttle made of gold.
Her voice was beautiful. Around the cave
A luscious forest flourished: alder, poplar,
And scented cypress.
Emily Wilson (translation of The Odyssey)
Enjoy this month of transition, as we bid farewell to Summer and welcome Autumn.
Hello June, how did you get here so fast?
June sales

Save 10% on retail sizes of all of our favorite wood oils, Australian BuddhaWood CO2, Atlas Cedarwood, Himalayan Cedarwood, Guaiacwood, from Paraguay, Chinese Ho Wood (even our Private Reserve Alligator Juniper!) and all our Sandalwood oils.
Also, for summer fun, outdoor specials: all forms of SkeeterBeater, Sunburn Soother, Trauma Oil, for the inevitable bumps and bruises, MuscleEase for over stressed muscles, After the Bite (because you forgot the SkeeterBeater), and even our already discounted Vacation Saver Kit.
New and not to be missed
The long awaited Third Edition, Volume One of Salvatore Battaglia's Complete Guide To Aromatherapy.
Does this replace the Second Edition ? No, It does not cover the full scope of the Second Edition. What is DOES cover is an overview "Foundation" of how aromatherapy is practiced, both historically, and at the present time, and the largest, most complete Materia Medica of any book in my collection I announced its arrival on Facebook and one quarter of our initial shipment sold in 24 hours. We will be ordering more, but order quickly to avoid a wait.
New and long awaited back in stock products
We have never had such a long list of new products. Enjoy!
Amazing new oils imported from an artisan distiller in Italy. So many of you say you want the very best, artisan distilled, ethically harvested or organic. We have put our money where your mouth is with this beautiful collection of new oils. See our Italian Helichrysum (soulstirring), also available in a 10% dilution in organic Jojoba, a beautiful Italian Lavandin, Sicilian Oregano vulgare, an amazing light translucent blue and sweetly scented Yarrow, a true rarity, Cypress FRUIT oil, (sometimes called Templin), Totally new to us Dwarf Pine (Mugo Pine), and longlasting Norway Spruce. All of these beauties belong in our Special Reserve collection, but so far we have only added the amazing Yarrow. Just enter "Italian collection" in our search box to bring up the whole collection. Please note, some of these are only available in very small amounts, some we can make available in bulk sizes. Let us know if larger sizes would meet your needs.
Two new to us Patchouli oils that Christi said I had to buy. Cindi, the book keeper said "why?" and Christi said "they are beautiful!" so of course we had to add both these beauties.
Patchouli Dark, from Sumatra, amber in color, deep and dark in aroma, and Patchouli Organic, from Indonesia, the first Patchouli we have loved that came with Organic Certification. (As always, we are not certified resellers. If you need an unbroken chain of Organic certification we can not be your supplier. That's the way the certification process works. But the oil was USDA certified organic when we unpacked it, and we certainly have done nothing to alter it.)
A versatile new Carrier oil.. Robert Tisserand says it's his favorite. See why.
Back in stock after being gone for five years: Organic Balsam Poplar from Canada. We also restocked our traditional deep cobalt Canadian Yarrow oil.
Back in stock, more of our beautiful Myrrh from Somalia. and, from my French mentor, more Mastic oil (Pistacia lentiscus)…lovely gentle astringent. (We refilled some of his other oils, but they were not yet out of stock.)
New Hydrosols, all organic from France: Linden, Cypress, Sage, and St. Johns Wort. Back in stock Hydrosols: Organically produced Carrot Seed and White Sage.
Back in stock floral waxes!
REFORMULATED: Fresh Aire synergy and Reunité We sold off the old, and reformulated the new. It took a lot of tweaking and a lot of testing. We are delighted to make them available to you.
News on the Fragonia™ front…John expects a harvest at the end of this year. Because we have been so frugal with our supply we are now able to offer this rare and precious oil in small bulk sizes. Thank you for being so cautious with your use of it.
Blog Update
Facebook Snippets
We announced our participation in the June AromaBox from AromaGirls, LLC. (And we recommended this curated collection very highly.)
We shared a link from The Tisserand Institute giving a simple explanation of how CO2 extracts are produced.
A blog article about our Rhododendron Oil from Nepal, by the NY Institute of Aromatic Studies.
Lots of announcements of new products. Photos and product descriptions get announced on our Facebook page as we explore them. Following us on Facebook gives you first shot at new goodies.
A cross post from a Quora question I answered: What essential oils are good for anxiety ?
And lots of chatter about the new Battaglia book. The Complete Guide to Aromatherapy, Third Edition, Volume one.
Our Clients Say
Sandy Barrett writes about our SoftHands Liquid Soap:
"Good Morning, Everyone! I know I'm not around much anymore, but had to share my new discovery. Early on in this journey, a good friend here made soap, and I started off buying hers. She then coaxed me until I was making my own. Then the grandkids started coming, and as the saying goes, "ain't nobody got time for that!!"
Long story short, it's been a rough winter on my hands, w/copious amts of hand washing and sanitizing. No amt of moisturizer was helping them recover from that assault.
A few days ago I was looking through NG's site and noticed Softhands Liquid Soap and ordered a 16 oz bottle. It's going to take awhile before these hands no longer look like old fishwives' hands, but I had to share the instant relief from achey, dry, cracked skin. It feels wonderful!
My sense of smell is not quite up to snuff, as I recover from a MILD case of pneumonia. Normally I am not fond of the lingering odor of Castille soap, so was pleased to see it wasn't an ingredient. My nose doesn't register ANY odor from this, and Marge provides directions on adding your own favorite scent to it. So that's my tip, if you're like me and haven't time to make your own, give NG's liquid soap a try! Have a Wonderful Day!"
Steve Huanq wrote about Neroli and Petitgrain, "Thanks for always being a great source of quality oils. I am looking forwards to trying the Bitter Orange oil! Your Petitgrain is also wonderful for background work diffusing when I don't want to dip into the Neroli ;). I save a few drops of 'liquid gold' because Neroli literally shimmers in the air to me and can turn around any dark mood." I love this. Neroli is truly such a unisex floral.
Sheryl Karas, of MamaLoveOrganics wrote of our German Angelica Root, "You were right, Marge. This Angelica is awesome! Perfect for what I use it for and quite similar to one I used a long time ago. I know it IS expensive but I only use a drop or two at a time in my products. I JUST redid the math for my formulas and I had just barely enough leeway in the pricing to make it okay because I got a cheaper price on my bottles recently. So it's okay, and it's worth it! I use Angelica in my two MOST popular flower essence aromatherapy formulas: 'Support for Troubled Times' and 'Releasing Worry and Fear'". See her creations on her Mama Love Organics shop on Etsy is probably best: www.etsy.com/shop/mamaloveorganics
Joann from New Jersey wrote, "Also, want to tell you I found a new use for That's Better when I recently had a sore throat. Applied some to the outside of my throat bye, bye sore throat. Blessings to all. Joan "
I love the recommendations for new uses of our products! Thank you all for sharing.
Blends For Him: (from a 10 year old newsletter)
Years ago there was a woman named Cat on some of the soap and/or toiletries lists. I've not seen smiling typeface around in a long long time. Back around the turn of this century I snagged some of her formulas… If I had her email address I'd ask for permission to share them…since I don't…I'll apologize later!
Please remember… all of these will need diluting before using on the skin!
Vanilla Sandalwood
3 parts vanilla absolute
2 parts sandalwood e.o.
1 part patchouli e.o.
(if desired, add a touch of jamine or rose abs.)
Bay Rum
5 parts West Indies Bay (pimenta racemosa) e.o.
1 part orange e.o.
1 part clove or allspice e.o.
Dark Moon
2 parts myrrh e.o.
1 part sandalwood e.o.
1/2 part patchouli e.o.
touch jasmine abs.
Bay-Patchouli
4 drops West Indies Bay
2 drops Orange Oil
1 drop Dark Patchouli.
Forest Blend
3 parts fir needle e.o.
2 parts cedarwood e.o.
1 part juniper berry
1/2 part cypress e.o.
1/2 part patchouli e.o.
"Aromatic (or not) quotes of the month"
I'm thinking of one dear friend who will be reading this, who lost someone dear not long ago. I know she misses him a lot. And remembered a quote that helped me during a time of loss… Carly Simon:
"Life is eternal
and Love is immortal
and Death is only a horizon
and a Horizon is nothing save the limit of our sight."
In honor of our Patchouli and Sandalwood… the Eastern oils…
"A puff of wind, a puff faint and tepid and laden with strange odours of blossoms, of aromatic wood, comes out of the still night. The first sigh of the East on my face. That I can never forget. It was impalpable and enslaving, like a charm, like a whispered promise of mysterious delight…. The mysterious East faced me, perfumed like a flower, silent like death, dark like a grave."
Joseph Conrad
And a third quote… one that is the "quote of the month" on a calender we were given… that seems to fit who and where we are today:
"Dedication: It is the effort of many that creates the ripples that can move mountains." I wish I could send you the picture that accompanies this quote…a deep forest ravine, with a plunging waterfall. Ultimate serenity.
We all wish you a serene June!
April Showers of Savings, and New Products
This newsletter contains:
New and Sale Products
Special Sale Days TAXDAY!
Blog Updates
Our Clients Say
Recipe – breakfast or snack
REMINDER
Coming Soon – future plans – or things that didn't arrive in time for this newsletter!
NEW Charity of the Quarter
Quote of the month
NEW and SALE product on our Specials page:
Back in Stock favorites: Aloe Butter, Osmanthus and Tobacco Absolutes, Poplar Balsam Oil. ORGANIC Jojoba. All on our New and Special page.
New Essential Oil – PLAI, powerful pain reliever from Thailand on our New and Specials page.
Back in Stock / New Hydrosols – Wild Carrot Seed and Poplar Balsam – both wonderful for skin regeneration
April Showers Sale – save 10% on all our Shower Gels on our New and Specials page.
Back in stock, clearance, and NEW diffusers. See them first on the Specials page.
NEW for Mature Skin – Cleopatra's Secret Smoothing Masque – All the women of Nature's Gift love it!
and more:
SPECIAL SALE TAX DAY
April 15th is the day of reckoning in the US – personal tax returns must be filed and paid. To ease the pain, we are having a special sale on Sunday, April 15th. The %age of the sale will vary from time to time…MOST of the time it will be 15%, but sometimes it will be higher, or lower. Most of the day the discount will only apply to our essential oils, absolutes, and CO2 extracts. They will always be discounted. But sometimes our hydrosols, or skincare products, or carrier oils, or…whatever..may also be discounted. It seems to me that filing my taxes is always a huge gamble…so perhaps on our tax day sale you will be gambling a bit too.
Use the promotional code TAXDAY and press apply, and see what your tax day discount will be.
Blog Updates:
Lemon Tea Tree – We've always used it to repel mosquitoes and other flying pests… but we received and shared a LOT of information about its powerful antibacterial effects as well. Some amazing anecdotes about its efficacy, simply by inhalation.
Christi shared her experience in "Happy Accidents – Cade oil for Dry Skin."
I love it when the "Mass Media" shares something we've known all along. Consumer Reports magazine issued a "Health Alert: Avoiding Synthetic Fragrances" (Sometimes we just want to say "Well, DUH!!!!")
Near the end of the month we shared a wonderful letter from a client that reminded us all of why we are here, and how privileged we are to do what we do.
Our Clients Say:
Arnica and bruising:
Diane Ontko, from Connecticut, recently wrote the following (and gave me permission to quote)
Yesterday while clearing snow I slipped and landed on my nose and knee. Ouch! Thought I had broken my nose. I quickly made a 10% blend of helichrysum in arnica oil. I applied several times yesterday and this morning my nose was just about normal looking. Tender, but the bump is down, and the red mark from where my glasses hit is just about gone. My knee is less swollen, I have to see how the bruise does. Thank GOD for the heli.
When I wrote, asking for permission to use her story, she replied:
Yes, you may use my story. Here's the other part. I was so busy with my 6 German Shepherds that I never thought to use ice once I made my blend. I had a lot to do that evening and didn't think to stop. Extra kudos to the heli and arnica. I am still applying it. Oh, and the bruise on my knee is already dissolving, never having turned purple. I can see yellowish tinges. It's about 1.5 x 2 inches right on the knee cap.

Thanks for the info on the oils. Calendula is one of my favorites. I made a shea butter balm using your products for my husband's chapped and cracked hands and fingers. I used calendula and avocado oils with the shea. He is seeing good results. More importantly, I have stronger nails for the first time in my life!! (they are terrible) LOL

Thanks again,
Diane
Serendipitously… one of my local friends, Johnny Loveday, has VERY frustrating and painful arthritis. He found that our Miracle Oil didn't help much (which shocked me…it shines with joint pains, normally.) and I wanted to try something else. Blended him some Helichrysum Italicum in our Arnica oil. (I didn't take notes, but it was probably a 5% dilution.) His comment a few days later:
"Point of interest: The oil you gave me seems to help what my Dr. is calling bursitis; from what I know of the condition (which is not a lot), it shouldn't. ???"
No…it shouldn't. And the Miracle Oil should have. Which shows that we really don't understand the human body!
Psoriasis:
Nancy Caltagirone recently bought some of our Cade Oil (mentioned in the blog article above.) and wrote the following:
I love the cade oil. I have been using it for two weeks and my psoriasis is beginning to clear. Nothing else I have used has had this effect. It is very soothing and it has taken away the burning and itching. Please continue carrying it. I blend it with aloe vera gel and squalane and it works pretty well.
We have heard so many raves about the Pomegranate CO2 for Psoriasis, I'm wondering about adding a bit of that???
SQUALANE
And speaking of Squalane…remember last month one lucky client was going to receive a 29% discount on her Leap Year Day order. The order that hit at the 29% interval came from Arizona, and was for three 4 ounce bottles of our Squalane. The winner's comment at checkout just tickled me "Squalene is wonderful. Even my 81 year old sun-blasted skin is still soft as a result of using it and it harms no sharks! Thank you for providing this."
When I asked permission to quote her, she replied, "Marge- You may certainly use my quote but only if I remain anonymous. Or give me a moniker like Desert Dora or some such name. I'm not a Facebook subscriber and really treasure my anonymity. But, again Squalene is THE greatest. And, thank you so much for the wonderful discount." We all thank Desert Dora for the endorsement! 😉
RECIPES:
Springtime breakfast/snack/treat:
Orange Almond Bagel spread: (great with muffins, crackers, etc…but wonderful on bagels.)
8 oz cream cheese (dieters can use the "light" version)
(let this warm to room temperature for blending)
2 tablespoons ground almonds
4 drops of organic orange essential oil
Cream all ingredients together and chill for two hours, for flavours to blend.
Let the spread reach room temperature before serving.
PS…adding a drop of Orange EO to your favorite muffin recipe is a wonderful flavor perker upper, as well, and would compliment this spread most nicely!
From a blog article three years ago:
Super Scones
Now, even though I live in the Midsouth; the HOME of great biscuits, I can't made biscuits worth a darn. I'm a Yankee born and raised, and biscuit making isn't in our genes.
BUT… ah, can I make good scones. They have always been a lot of work, and normally I only go to the effort when I have fresh strawberries and heavy cream. Strawberry Shortcake is WORTH the effort.
Recently came across this recipe…and found it one of the fastest and easiest, and BEST I've tried. (And I season them with Orange Oil so that makes them suitable for an aromatherapy blog.)!)
You should own a food processor to make these. They are "do-able" with nothing but a grater, a bowl and a fork, but in the processor they are done faster than my oven can heat up.
Preheat the oven to 400 degrees, and you might want to grease a cookie sheet while you are at it.
Then… with the grating blade of your food processor grate ONE 4 oz stick of FROZEN butter.
(Plan ahead…I always have butter in the freezer.)
Switch to the "regular" blade and dump in:
2 cups all-purpose flour
1/3 cup sugar
1 teaspoon baking powder
1/4 teaspoon baking soda
1/4 teaspoon salt
Process these until you have a crumbly mess.
Break in one large egg.
To 1/2 Cup sour cream add 4 drops of organic orange oil. Add to the processor bowl. (The original called for beating the egg and sour cream together, and adding the grated rind of one large orange. The changes I made work beautifully.)
Process "on and off" until well mixed. You will have a sticky mess on your hands.
Toss in 1/2 cup of raisins, or currants, or "Craisins" (dried cranberries) or dried Cherries (bliss!)
Pulse just two or three times to mix the dried fruit into the dough.
Scrape the contents onto a cutting board, form into a 7 or 8 inch circle that should be about 3/4 inch high. At this point you can sprinkle them with granulated sugar, raw sugar would be even better.
Cut into 8 wedges, place about an inch apart on that greased cookie sheet. Bake in the 400 degree oven for 15 to 17 minutes, until lightly golden. (Mine took 18 minutes.)
These were amazing. Hot with butter. I suspect they'd be very good cold, as well, but there were none left to get cold. The Cream Cheese Blend above is awesome on them.
Other suggested combinations.
Use Lemon Oil instead of the orange, and add dried blueberries.
Use Almond Flavoring with the dried cherries.
Use Vanilla Extract (one teaspoon?) and chocolate chips.
Please note, the 4 drops of Orange oil gave a subtle flavour, definitely not an "in your face" Orange taste. You could add another two drops…especially if using dried cranberries.
Whenever I go to my favorite bakery, I'm more apt to bring home a couple of scones to heat for breakfast or a bed time snack than some of their richer desserts. I can make a batch of 8 of these faster than I can drive to the bakery, and they surely don't cost.00 apiece!
REMINDER- Shipping
Jim suggested we remind you that, since March was the hottest month of March in Tennessee since records have been kept, we may have to discontinue shipping Shea Soufflé and/or Baby Bottom Balm sooner than usual. If we ship them during periods of extreme heat, you would receive Shea Soup. Perhaps ordering early to meet your summer's needs would be appropriate.
COMING SOON
In the past we were able to offer REFILLABLE Personal inhalers, as well as the sealed vials we currently stock. Early next week (perhaps by Wednesday 4/11?) we hope to offer the refillable inhalers again. They are en route, but not in time to list yet. Check our new and special page next week.
Combination Skin?
We've been experimenting and testing (and enjoying) a new suite of skincare products designed to care for "combination" skin. After much thought, we've arrived at the name of the product line – "Harmony" – for when your skin or your life is out of balance. Christi created the synergy, designed to bring balance to your skin, and, perhaps, to the emotions. We have been testing a gentle cleanser, another version of the creme masque mentioned above, a facial lotion, and a gentle facial exfoliant. Christi has been raving about the various components. Ginger who probably packed your last order wrote the following:
Ginger's thoughts on the Harmony products:
Masque: This was my favorite! It moisturizes and calms the skin without leaving any greasy residue behind. I tried it plain for a few days and then with a drop or two of Harmony mixed in. I liked it both ways, but better with the Harmony added.

Gentle Milk Cleanser: I loved this cleanser. I just felt like it did a really thorough job. It left my skin feeling clean, but not dried out. I felt like my skin could really breathe afterward. I put a little bit of Harmony in this too and it definitely helped.

Exfoliant: This stuff is great! It's gentle, but effective. I tried this plain for a few days and then with Harmony. It's great plain, but even better with the Harmony added. It's good stuff.

Lotion: I really liked this. It's a nice, light moisturizer that isn't greasy at all. It absorbs nicely and evenly into your skin. I prefer it with the Harmony added, but the plain was nice too.

Whoever discovered that Harmony was good for combination skin really knew what they were talking about!
Coming next month to a website near you!
Charity of the Quarter:
Midwives on Missions of Service travel to the poorest parts of the world to share information on safer pregnancies and birthing methods, to help improve the lives of women and children.
from their website:
MOMS is a non-profit, non-denominational organization whose purpose is to improve maternal health through education and service.
How we fulfill our mission:
Prepare women to educate and support their communities, especially the pregnant women in those communities
Train women in the skills and knowledge they need to support local women in normal birth
Promote effective maternity care to all women
Our Philosophy of Mission:
We serve marginalized women. We have a vision of improving women's and children's lives by helping provide excellent maternity care. We stay focused on serving women and preparing them to support their communities skillfully. With our experience in effective management, we also think creatively. We act responsibly with the trust our donors and clients have given us. We like to have fun, not taking ourselves too seriously, while taking MOMS' work very seriously.
Aromatic Quote of the Month
In 1002 AD, in The Pillow Book, Lady Shonagon writes the following passage.
"To wash one's hair, make one's toilet, and to put on scented robes; even if not a
soul sees one; these preparations still produce an inner pleasure."
And in 2012, there's still truth in the process!
To sign up for your own copy of the newsletter to be emailed to you, please click here.
Valentine Specials from Nature's Gift
This newsletter contains:
Special Valentines Sales
Our clients say
Leap Year Sale?
Blog Update
Romantic Blends for your Valentine's Delight
Aromantic quote of the month
Special Valentines Sales
Our New & Special Sales page is now online and features our favorite Valentines, as well as some end of winter aids. Save 12% on our favorite "love potions"…ready to wear 10% dilutions of some of our favorites, to wear alone or blend, our "Personal Perfumes."
New oils – Certified Organic USA grown and produced Lemon Verbena, and, to ease psoriasis, eczema and dandruff, Cade oil, just in from my favorite French source.
Save 12% on our most romantic Bliss Baths, and on Rose Shower Gel. Make your own romantic massage oil with a sale on our favorite massage base. Create a yummy body butter or Massage Creme with Cocoa Butter and Virgin Coconut Oil.
Fend of the winter doldrums with our favorite anti-depressant blends and oils, keep yourself and your family healthy with our favorite germ fighters and anti-virals. All at 12% savings, all (and only) on our Special Sales page.
And our Clearance sale continues.
Our Clients Say
Poplar Balsam
Ange Finn, an Emotional Freedom Techniques practioner in Houston TX, ordered some of the 10% dilution early in December. She recently wrote on our Facebook page:
"Just have to give you a big compliment on the Poplar Balsam. I've been using the 10% to heal small cuts and scrapes and red, rough irritated skin. It does work wonders, relieves the pain and speeds the healing. It's worth the money."
We thank her for the feedback, and the permission to share it!
Helichrysum (again!)
Bronwyn Castillo, RN, of Windflowers of Healing recently wrote: My grandson had a Pyogenic granuloma on his finger. It was growing and they had two surgical consults. The helichrysum that was sent to her in PR was used for this as a last result. It has completely healed! (She went on to say some lovely things about our oils, as well.) For those who didn't know (and I didn't!) what a Pyogenic granuloma is there are several excellent medical pages describing them. This is a good example. Once I read about the condition I was just so grateful that we were able to keep the little boy from having to go through a painful treatment!
Fog Cutter — Appetite Suppressant:
I was looking for the Valentine Newsletter from 10 years ago, and found this comment from Cynthia Green. The formula hasn't changed, so the comments would still be valid.
Dear Marge, Just thought I'd drop you a note to tell you how much I enjoy your Fog Cutter. Besides using it in the car to keep me alert while driving, I've found that it tends to curb my food cravings. I often have difficulty getting all the way to work in the morning without stopping for a bacon, egg, and cheese bisquit (one of my ultimate comfort foods). This is especially difficult to resist when I know the day is going to be stressful. The scent of your Fog Cutter synergy filling the car seems to dampen any desire to eat. Now, not only am I a more alert driver, but a healthier one as well. Thanks!
Respiratory Blend:
JoAnn Schlott recently wrote:
Here in Iowa we have had a nasty upper respiratory infection going around. It causes sinus infection, bronchitis, with horrible coughs that hang on for weeks.

Once again I am sending the cajeput/sweet basil in jojoba to work with my daughter. The girls in the office swear it works better than any prescription.

Most of the girls have their own bottles, but there is also one that stays at the office so they can make sniffers as needed. Not wishing sinus infection on any of you, but if you should need something to immediately open your sinuses give it a try.
Skin Toner:
I am going to break my own rule and quote a client (anonymously) without her permission, because the email address she used to place her order and make her comments doesn't exist. My reply and request to quote bounced with a "fatal error." A shame, I wanted to make some suggestions to her. At any rate, she suggested a formula that I want to try:
Thank You for the samples in my previous order, it was a help. I had purchased Aloe Vera Gel and mixed in water, with Calendula oil, and a few drops of Myrtle oil. The spray was soothing, the aroma wonderful! and feel was velvety soft! I'm 50 yrs. old with acne scarred face from early adult years, large pores and my face was very badly sunburned this past summer. I've been trying many things to help improve my skin. Essential oils along with a different cleansing routine that includes a white sugar & yogurt mixture has helped. I've only been using Rose Hip oil for a week…the first product to show improvement in such a short period of time, especially the photo-aging damage from the sunburn. I'm going to give the Argan Oil a try mixed with Rose Hip & an Essential Oil to see if it helps. Thank You!
And we hope it will! Now, we mix Jojoba Oil and Aloe Gel in our Sunburn Soother (after first dissolving the essential oils in the Jojoba.) But I've never thought of blending Aloe, Calendula oil and water (or a hydrosol??? ah yes!!!) for a facial spray. Thought this sounded too nice not to share. And, I'm thinking, you could substitute other oils for the Calendula infused, depending on your skin type. And choose an appropriate or complimentary hydrosol. One reminder, this would have to be shaken well before each use, since the aloe and oil will separate.
The Nicest Thank You Note:
Sometimes we get comments that just warm our hearts. A few days ago, Jane Pinder, who has been a client for about five years now, wrote out of the blue:
I just want to extend my appreciation for the service you provide at naturesgift. The quality of your products are amazing and you're most generous with the free samples. I'll definitely be getting the lemon verbena when it becomes available. The sandalwood is divine, by the way. Good quality essential oils have such a powerful transformative effect on one's mood and spirit. Getting a box from naturesgift is like Christmas! Jane
I was SO glad I could email back and tell her we HAVE some Lemon Verbena!!! Comments and feedback like that make it feel like Christmas here!
LEAP YEAR SALE
February 29th comes but once every four years. So of course we have to celebrate. (Remembering that as I wrote this newsletter four years ago I was celebrating the birth of my newest Grandson, Leif.)
On February 29th, Leap Year Day we will have a very special Sale event. A special Promotional Code.. The value of the code will vary. Most of the night and day, it will be worth 10%. ONE very lucky customer will receive a 29% discount for the 29th of the month. There will be times that it will range anywhere between those two numbers. Enter the promotional code "leap year" without the quotation marks, in the box marked "promo code" at check out, and press apply. If the discount is not reflected on your screen do NOT submit the order; we can not apply it retroactively. Have fun! As always, discount codes will not apply to a few select items… our "rare and special books", our essential oil kits, bulk products and fast buys may never be discounted. Free shipping may not apply to any order using a discount code. (That would be a double discount, and we can't do that.)
BLOG UPDATE
Tinnitis – ringing in the ears – maddening and hard to deal with. Suggestions from Dr. Liana Carbon. I've already recommended this article to 1/2 dozen folks.
Christi found some research about her new favorite oil – healing SARO Oil, from Madagascar
And just tonight I posted a family recipe – Rose Cake, adapted from my mother's Hot Milk Sponge Cake.
(We haven't had a lot of time to write this month!)
Romantic Blends
Baby Powder
NOT for use on your baby, but a blend of equal parts Rose Absolute and Vanilla is remarkably close to the scent of commercial baby powder – if you want to duplicate that scent. Neither oil is safe for infants, so please don't think about scenting baby products this way.
Oriental Rose Blend
One part Sweet Patchouli 10%
Two parts Rose Absolute 10%
Aphrodite Blend
Equal parts Patchouli, Sandalwood, and Jasmine
OR… my personal preference – equal parts Patchouli, Sandalwood and Rose (yummm!)
For Lovers
7 drops sandalwood e.o. 5 drops rose abs. 2 drops jasmine abs. 1 drop patchouli e.o.
Two Unisex Blends
Vanilla Sandalwood 3 parts vanilla CO2 2 parts sandalwood e.o. 1 part patchouli e.o. (if desired, add a touch of jamine or rose abs.) Jakarta 3 parts sandalwood e.o. 1 part jasmine, ylang-ylang, neroli or rose absolute
(Working with the 10% dilutions means these will be skinsafe and ready to wear.)
Aromatic Quotes of the Month
"A flower's fragrance declares to all the world that it is fertile, available, and desirable, its sex organs oozing with nectar. Its smell reminds us in vestigial ways of fertility, vigor, life-force, all the optimism, expectancy, and passionate bloom of youth. We inhale its ardent aroma and, no matter what our ages, we feel young and nubile in a world aflame with desire." —Diane Ackerman, A Natural History of the Senses, 1990, p. 13
"Perfumes are the feelings of flowers." —Heinrich Heine
"Flowers are love's truest language." —Park Benjamin
To sign up for your own copy of the newsletter to be emailed to you, please click here.