April Showers
This newsletter contains:
Back in Stock Products (a long list!)
New Products (another long ilst!)
" Monday's with Marge " Q&A
April Savings:
To counteract the April Showers, let's have some citrus sunshine. To
bring sunlight on rainy days, we are offering retail sizes of all of our Citrus Oils at 10% savings during April.
Also, Free Shipping Fourth Friday, in April and most subsequent months, on the Fourth Friday of
the month (04/22) we will be offering free domestic shipping for orders over
5, with the discount code "Friday-Four."
New and Back in Stock Products:
We were so busy importing and adding new products, or sourcing out of stock
products that we never got to put them online.
Atlas Cedarwood oil,
beautiful and organically produced.
Cistus Essential Oil from our
favorite producer, so powerful it gives me goosebumps.
Oregano onites (to fill a special request),
Helichrysum gymnocephalum,
from South Africa, a wonderful oil for respiratory support.
Opoponax, sometimes called Sweet Myrrh
Eucalyptus radiata,
delightfully gentle and organically produced in South Africa.
Rosalina,
sometimes called Lavender tea tree, organically produced from Australia, of course,

Peppermint Eucalyptus (Eucalyptus dives), also Australian, ethically
farmed.
Ginger Lily and Jasmine Sambac Absolutes from our favorite Indian supplier. (And a sample of a lovely Golden Champa, which of course we have to order.)
English Lavender and

English Chamomile from the UK. (Prepare for sticker shock on the anthemis. There are shortages, that's all I can say.)
Owyhee and USA grown, high sclareol
Clary Sage.
Owyhee Hydrosol this one has been here, was never put online. Sorry folks!
Fixed/Carrier Oils:
Our South African supplier offered us a small amount of organically produced cold-pressed
Rose Hip Seed Oil. With the worldwide
shortage, we took all that we were offered. More
Vanilla Infused Jojoba,
again, organic from South Africa, and after too long a wait,
Marula Oil!
We have finally succeeded in sourcing a match to the first batch of Marula we
ever experienced. A bit thick, and heavy initially, but far and away the fastest
absorbing fixed oil any of us have experienced. We are delighted to make it
available again.
Refillable Inhalers are back in stock. We also restocked
Fragonia, Kunzea, Tea Tree, the Australian oils that were starting to run low.
Coming Soon: An Italian Roman Chamomile. We sampled it, and fell
in love. With the global shortage of fine Roman Chamomile we snatched what was
available.

NEW Oils:
10-fold Orange — just for fun. Distilled 10 times to remove the
irritating terpines, this sparkling sweet Orange smells, to us, like a can of
Orange Soda, rather than the fresh grated zest of a cold pressed orange. A
product for the flavoring and fragrance industry, we had some requests, so here
it is for your flavoring or soaping pleasure. We are told that this is far more stable than
our traditional cold pressed Orange, with a much longer shelf life.
Corn Mint
— Icy cold big brother of the more familiar Peppermint oils.
Nerolina,
wonderfully floral cousin of Christi's favorite Niaouli, but not at all
"medicinal" in aroma.
Honey Myrtle another new Australian oil, and the most pain relieving of the
high Citral oils.

Boronia Absolute — for the perfumers among us, rare, and special,
solvent extracted from blossoms.

Cocoa CO2 — for sheer bliss. There are Chocolate/Cocoa absolutes that
will not dissolve in fixed oils, but need to be used in alcohol. This
exquisite Cocoa extract will dissolve in your chosen carrier… ready to use
in lip balms, body butters, whatever.
Cognac Essential Oil Distilled from the lees after aged Cognac is
decanted from the barrels. Blend with the Cocoa, above, for a very
grown up Truffle blend.

Siberian Fir (Siberian Pine) from Austria. The world's most relaxing
conifer oil. Wonderful for respiratory issues.
Ruh Khus,
from India, rare sacred oil from the Wild Vetiver in Northern India. One
friend smelled the scent strip and said, "This is the soul of vetiver."

Fingerroot, from Thailand. Sweet gentle spice, cousin to ginger
root, but much milder. Sweet as candy.
Guava Leaf,
again, from Thailand, an amazing pain reliever.
Just thinking that this list of new products reads like either a geography
lesson, or like the United Nations.

Blog Updates:
In March, Sandy added to her Aussie Oils series with an article about our
delightful new Nerolina.
The first article in a proposed series about new ingredients. In this case,

Optiphen, an effective and safe general purpose preservative.
Sandy and I headed back to Atlanta for part two of Mark Webb's Aromatic
Medicine course.

She blogged her reflections.
Mark taught us some Australian substitutes for costly European Melissa oil.
Read
about Lemon Tea Tree and Ironbark Eucalyptus as Melissa substitutes here.

Educational Opportunities:
If you are intrigued and want to learn more about Aromatic Medicine, but not
quite ready to commit to an 8 day intensive course,
Mark will be doing
a Post Conference one day workshop after the NAHA conference in October.
Speaking of NAHA, my friend
Madeleine Kerkhof,
author of my

favorite new book, will also be presenting. I hope to be able to help both
my favorite authors at their tables, as they sell and sign their books, and to
offer kits of the oils they will be covering.
FREE mini-course with Robert Tisserand:
How
Essential Oils Work in the Body. (A lot of our staff, the untrained folks, are taking this.)

Snippets:
Tea Tree: We all know the amazing power
of Tea Tree Oil. But not all of us like its smell. To me, it's medicinal
and I avoid it whenever possible. At Mark's Aromatic Medicine course I
learned that a blend of equal parts Tea Tree Oil and Rosalina is as effective as
the tea tree alone, but smells absolutely delightful! Gentle, floral,
delightful.
Siberian Fir: We didn't need another conifer. We have plenty. But Mark taught us that this unusual fir is
extremely high in Esters, more than any other conifer oil. And Esters are
the component in oils that help us relax. They are the secret of Roman
Chamomile's sedating power. Robert Tisserand recommends using conifer oils
for respiratory difficulties in children too young to be exposed to the
eucalyptus and other high cineole oils. And I thought that a conifer that
would both help a child sleep and help with a stuffy nose might be just what
every mother needs in her toolkit.
Lemon Myrtle: Marnie Sloan Scassa
commented on Facebook: "I'm not much for lemony scents myself but I have been
enjoying the lemon myrtle. Mixed with lime, my kids think it smells like fruit
loops." When I asked her if I could quote she said yes, of course, and added, "It's
our favorite room spray for the kids rooms. Momma gets all the benefits of
y'all's delightful Lemon Myrtle and the kids get the fun. GOOD way to kill germs and lift spirits at the same time!
Ashley Cates recently did some "kitchen chemistry" analysis of several different "germ killing" or "protective" blends. Our GermBeater Spice was among them, and tested out as the most effective of the tested specimens. This is NOT Consumer Reports, but I'm glad we came out on top, rather than on the bottom!
Oldy but a goody, reprint from Nurseweek Magazine about the
use of aromatherapy in a hospital in Dallas Ft. Worth.
A comment on an order (I got permission to quote) "I have been super sick and
finally made the connection… I got sick when I ran out of flu foil!!"
(She was restocking.)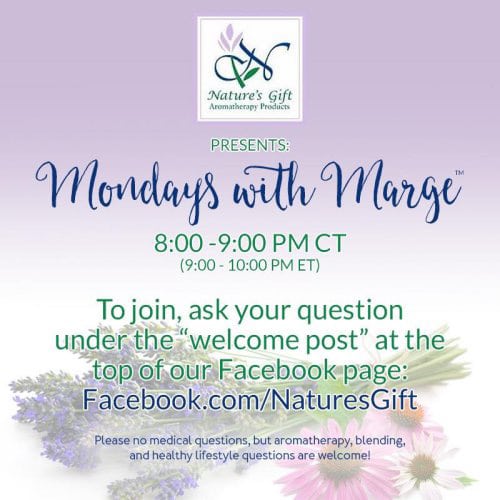 Question and Answer:
For our Facebook friends instead of answering questions
throughout the day in numerous groups, on Monday nights, at 8:00 pm central
time, starting on Monday April 4th, Marge and possibly Christi will be available
to answer your questions.
Enough, I'm tired of typing, and you must be tired of reading.
Hope your springtime is filled with joy and happy changes and new beginnings!
To sign up for your own copy of the newsletter to be emailed to you, please click here.